收藏:

真丝口罩
Mayfairsilk 的面罩不仅对您的皮肤有益,而且具有低过敏性、透气性、疏水性、天然抗菌性,并且可重复使用/可清洗。
Pamper your face with a Mayfairsilk Face Covering

Our triple-layer masks are crafted from 100% Mulberry Silk in 22 momme. These are designed to contour around your nose and jawline for a snug, comfortable fit. The ear loops are elastic and adjustable, so it's comfortable to wear all day long, and the integrated wire on the nose bridge is adjustable to provide a clean fit without gaps.
Unlike many disposable PPE masks, our silk face coverings are not sprayed with PTFE (Poly Tetra Fluoro Ethylene) and are kind to your skin and most importantly, the environment. This mask is endorsed by skin specialists and dermatologists to reduce skin irritation and maskne (mask acne). They feel divine against the skin and are available in three gorgeous colours.

An estimated 129 Billion disposable face masks are being added to landfill every month.
We want to change that.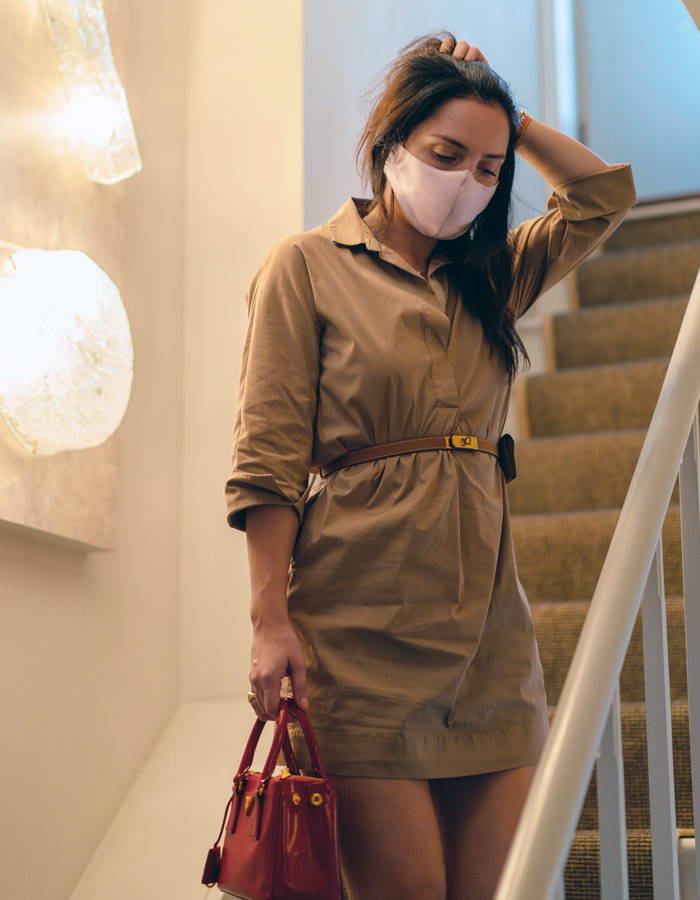 Pure Silk Face Masks
Silk is the most comfortable, lightweight, breathable and luxurious fabric available. Our 100% Mulberry Silk non-medical face masks are gentle on the skin and comfortable to wear. They fit snugly around the nose and jawline giving you a comfortable fit.
Pure silk masks are hydrophobic (resists moisture absorption), staying dry and reducing internal humidity in the mask. If you constantly wear face masks, then consider switching to silk. These silk face coverings are crafted from the finest grade 6A Mulberry Silk in all 3 layers. So choose a real pure silk face mask instead of cotton, polyester satin or disposable masks!


Silk Face Masks Good for Skin
Silk facemasks are hypoallergenic and kind to the skin. Crafted in 22 momme silk and certified Standard 100 by OekoTex to be free of all harmful chemicals and dyes, they feel divine against the skin. Mayfairsilk face masks are naturally anti-bacterial, resist mould and mildew and reduce humidity which are all contributors to 'maskne'. This pure silk face mask won't leave you with redness, irritation, and pimples caused by cotton and synthetic cloth face masks.
Why choose a Silk Face Mask?
• Silk is hydrophobic and temperature regulating, keeping your mask cool and dry.

Studies have found silk

to be the superior choice for cloth masks in reducing water droplet transmission.

• Silk is a natural fibre that makes one of the world's softest and most prized fabrics. Furthermore, due to its hypoallergenic characteristics, it impedes the growth of bacteria that can lead to rashes and breakouts. This makes the silk mask an excellent choice for people with skin allergies.

• Silk is mould, mildew, and dust mite resistant, making it an ideal material for all allergy sufferers.

• Silk face masks can be washed and reused over and over again, removing the requirement of disposable masks that are creating an emerging environmental catastrophe.
---
Frequently Asked Questions (FAQs)
Are these silk face masks different from cotton masks?
Yes, these pure Mulberry Silk Face Coverings breathe more freely than other fabrics, whilst reducing the internal humidity that occurs with cotton/synthetic masks and provides a more effective barrier as it is hydrophobic. Customers have found their skin has cleared up (as other cotton/synthetic masks were beginning to cause mask acne).
Mayfairsilk is naturally thermoregulating, hypoallergenic, antimicrobial, sustainably produced and biodegradable at the end-of-life.
Do they provide any additional protection to me than other masks?
The short answer is yes, for personal use, and they are much more comfortable, hygienic, reusable and less irritating for the skin.
Summary of the research:
"As a protective barrier and face covering, silk is more effective at impeding the penetration and absorption of droplets due to its greater hydrophobicity relative to other tested fabrics (cotton, polyester).

Conclusions: Silk is an effective hydrophobic barrier to droplets, more breathable than other fabrics that trap humidity, and are readily re-usable via cleaning."
Are MayfairSilk face coverings machine washable?
Yes the are, on a delicate cycle, using a delicates bag and using a delicate detergent designed for use with silk/wool. We recommend handwashing if possible, due to the nosebridge wire and elastic straps.
What guidelines do you follow while manufacturing the silk face masks?
With our commitment to sustainability and reducing wastage, all our face coverings are made from the offcuts of our silk bed sheets. They are then expertly cut and stitched before steam pressing and packaging.
Stringent quality control standards ensure the highest quality face mask available.
All our products are certified Standard 100 by OekoTex, meaning they are free-from harmful chemicals and dyes.
Are there any caring & maintenance tips for the silk face masks?
MayfairSilk Face Coverings can be machine-washed or handwashed. For best results, follow these simple care instructions:
1) Wash silk separately using a delicate detergent designed for silk/wool.
2) If machine-washing, select the delicate cycle.
3) Do not tumble dry. For drying, simply place between two cotton towels and press gently so the cotton absorbs most of the water. Then reshape and smooth the mask into it's natural shape including the nose bridge, and hang from the earloop somewhere in the shade (don't dry over a heater as this is not necessary and will degrade the silk over time).
4) If required you can iron or steam to relax any creases but this shouldn't be necessary if you reshape and smooth the mask while still damp in step 3 above.