收藏:

桑蚕丝枕套 |超级国王
依偎在您自己的 Mulberry 真丝枕套(英国超大王/美国大王)中,该枕套采用最好的 25 莫米真丝精心手工制作而成,采用我们的定制编织和哑光饰面。
100% Pure Mulberry Silk Super King Pillowcase

25 Momme | Super King (UK) / King (US)
Our Super King silk pillowcases are naturally hypoallergenic, reducing the formation of dust mites, fungus, mould, and other allergens. Measuring 50 x 90cm, a pair are designed to fit the width of a Super King bed (measuring 6ft | 180cm across) and they're available in a wide range of colours, exclusive prints and elegant Oxford borders.
Review the range of silk pillowcases in white, grey, gold, teal, pink, pastel blue and charcoal to name a few colours.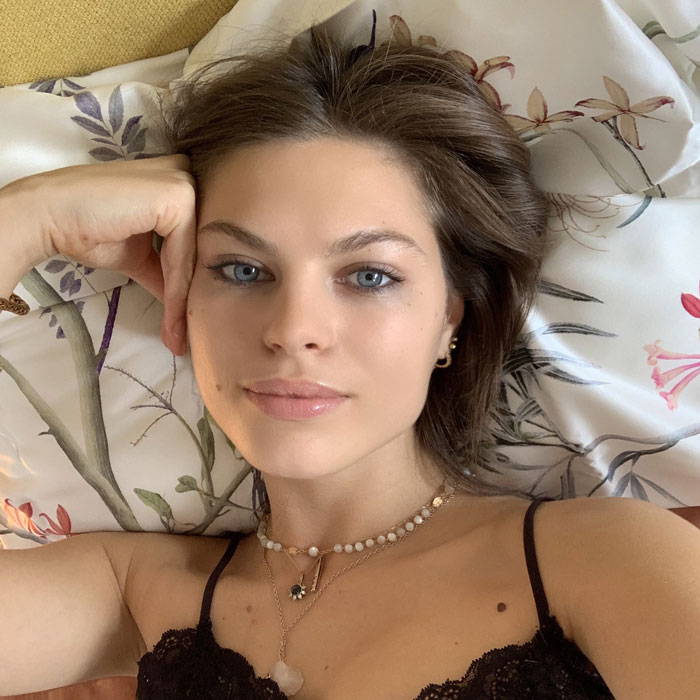 Beauty in bedding
Silk helps your skin and hair to smoothly slide across the pillow at night, whereas cotton absorbs and retains moisture from your skin and hair, ironing in sleep wrinkles and causing hair breakage. Silk does not dry out the skin, so you won't have to worry about your night-time skincare routine feeding your pillowcase instead of your skin. Also, a lesser-known fact of cotton is that because of its property where it absorbs and retains moisture, it becomes a breeding ground for dust-mites and bacteria which are responsible for triggering household allergies.
Therefore, many people have been accustomed to sleeping on small or large bed linen made from Egyptian cotton, are now making a switch to silk. Silk's natural fibres are hypoallergenic, making them ideal for people with sensitive skin, as it is highly resistant to dustmites and bacteria. It is no wonder that silk bedding which includes flat sheets, duvet covers and pillowcases are becoming exceedingly popular for those who look to invest in the best.
Proven as a beauty accessory, dermatologists and hairdressers recommend Mayfairsilk king size pillow cases, as they are crafted from pure Mulberry silk in 25 momme (extra thick) with a smooth hand feel and a matte finish.


Pamper your hair with silk pillowcases
Each night your hair endures hours being crushed up against your pillow. Cotton causes friction which ends up creating dry, frizzy hair which is more prone to split ends. Silk pillowcases offer the perfect alternative. Its smooth finish ensures reduced friction to keep your tresses tangle free for your morning hairstyle.
Protect your skin with silk pillowcases
If you are a side sleeper, your face is in constant contact with your pillowcase.
Being far less absorbent than classic cotton pillowcases, silk pillowcases won't extract the moisture and oils from your skin overnight. This is one of the reasons that silk pillowcases decrease the appearance of fine lines and wrinkles, as they ensure your skin's natural hydration is maintained. Hypoallergenic and calming to the skin, the super-smooth texture not only feels great but helps you avoid facial sleep creases. They really are the perfect pillowcase.
Pictured is midnight blue king size pillow cases, along with a midnight blue duvet set and brilliant white flat sheet. There are some wonderful combinations where you can mix and match your silk bedding.
There isn't a better time to upgrade your bedtime beauty regime with a silk pillow case. Although a word of caution, as with all things of quallity, there are some nasty cheap pillow cases for sale pretending to be pure silk, but you'll find that they are mixed with synthetic fibre or cotton, and will likely shrink or bleed colour after your first wash.
Investing in Mayfairsilk's pure and high-quality 25 Momme Mulberry Silk pillowcases not only gives you the peace of mind knowing that you are investing in a multi-award winning brand, but our 30 night sleep guarantee ensures that you are assured of the quality of our silk pillowcases and ultimate comfort.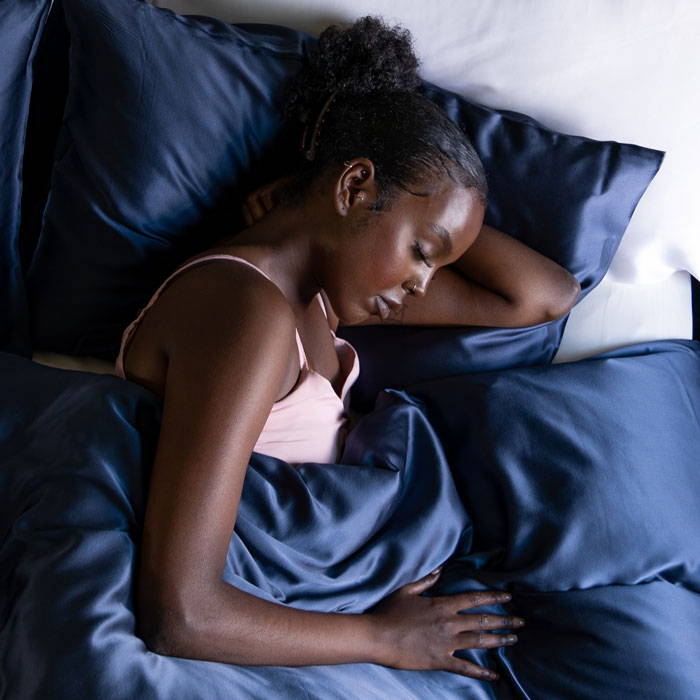 Bought as a present for my daughter. Arrived on time and beautifully presented. My daughter is delighted with the pillow case saying it's the best she's ever had..
Peter B.
30 DEC 2021
I love my pillowcase. I bought 3 for my daughters and they love them just as much as me. A luxury sleeping partner. xxx
Alison S.
12 MAR 2021
Love my new bedding. Fabulous quality and thoroughly enjoying sleeping on these fabulous pillows. Love the charcoal trim.
Diane R.
28 JUN 2021
THE RESTORATIVE SILK SLEEP EXPERIENCE
Sleep better with less to worry about!
Reduced Hair Breakage
Our smooth Mulberry Silk pillow covers reduce hair tangles, frizz, and pulling throughout the night, preventing unwanted hair loss and messy hair in the morning.
Soothe the skin
Silk pillow covers have proven to be a lifesaver for people suffering from eczema and acne. Hypoallergenic, anti-bacterial, anti-microbial and free from harmful chemicals and dyes, Mayfairsilk is extremely soft and kind to the skin.
Cotton, flannel, and wool, which are rough short fibres, can generate creases, lines, and wrinkles around your eyes, forehead, lips and cheeks. You don't have to suffer irritation from your bedding any longer.
Sound sleep
Silk fabrics are breathable and temperature regulating to help your body maintain an optimum sleeping temperature. In the summer, silk is naturally cooling and vents excess heat. In the winter, it provides an insulation barrier, creating an air pocket between the lattice structure to warm you up into that optimum temperature band.
Being a naturally breathable fabric with exquisite tactile pleasure, it promotes a dreamy, restful night's sleep. There simply isn't a more ideal, luxurious, comfortable fabric to sleep on for 3,000 hours over the next year, or 30,000 hours over the next decade than Mayfairsilk.


Discover the joy of sleeping on silk - pleasure in the simplest of moments.