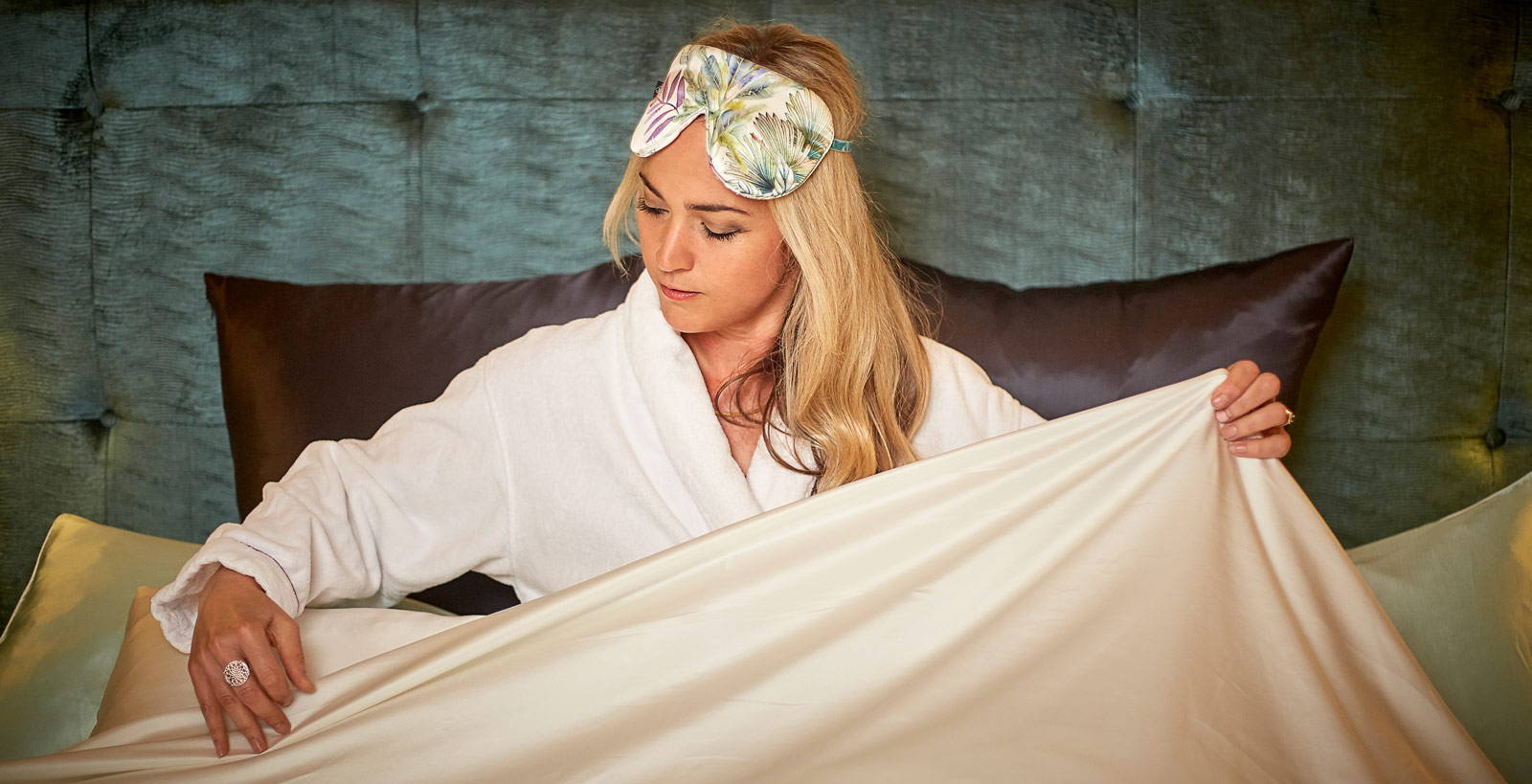 Mayfairsilk - tradition meets modern design and weaving technology

收藏:

纯丝床单
Mayfairsilk 床单仅采用最优质的 6A 级 100% 长股桑蚕丝。
我们采用最新的现代技术,通过专业的编织和整理生产出精美的 22 Momme 面料,可机洗。
我们的真丝具有精致的哑光光泽和令人难以置信的光滑、柔软的手感,在最简单的时刻带来愉悦。
Showing 10 of 10 products
Pure Mulberry Silk Flat Sheets | 22 Momme
Introducing our exquisite range of flat sheets, available in two distinct styles: a sleek design with colour-matched detailing on one end or a version with contrast piping on one end, coordinated with pillowcases of the same hue.
As you select your next flat sheet, ponder the following ...
Cotton, while being highly absorbent - 27 times its weight in water - is perfect for bath towels. However, as bed linen, it strips the natural moisture from your skin and hair, leaving them parched and lifeless as you slumber enveloped in it throughout the night.
While this may not be a significant concern in one's youth, as we age, our skin naturally dries and loses its elasticity. Continuous sleep on cotton can hasten ageing, make hair brittle, and the absorbed moisture becomes a haven for bacteria and dust mites.
On the other hand, Mayfairsilk is breathable and absorbs less than 0.3 times its weight in water. It efficiently wicks away excess moisture while preserving the natural hydration levels of your skin and hair.
As we age, sleeping on silk aids in delaying the signs of ageing, maintaining your natural glow and adding a shine to your hair. Silk possesses anti-bacterial, anti-mould, dust mite-resistant, thermoregulating, and naturally hypoallergenic properties.
This is the reason top skincare professionals, physicians, and dermatologists recommend silk bed sheets.
Highlights
• Crafted from 22 momme in the finest grade of Mulberry silk (6A) with a matte finish.
• Woven to deliver an exceptionally soft and luxurious feel against your skin.
• Helps maintain skin and hair hydration, resulting in better skin luminosity and glossier hair.
• Minimizes sleep lines and bed hair.
• Naturally temperature-regulating that ensures comfort all year round.
• Naturally hypoallergenic, providing relief for sensitive skin.
• Anti-bacterial, anti-mould, and dust mite-resistant.
• Hand-finished and pre-shrunk to meet specifications.
• Easy to clean, quick-drying, and stays fresh longer (requires less washing than cotton).
• Certified Standard 100 by OEKO-Tex (free from all harmful dyes and chemicals).
• Durable and long-lasting.
• Sustainably produced and biodegradable.
There simply isn't a more ideal, luxurious, comfortable fabric to sleep in for 3,000 hours over the next year, or 30,000 hours over the next decade, than Mayfairsilk.
Made to last - you can look forward to over a decade of use when following our care instructions (that includes machine-washing).
Discover for yourself why silk is referred to as the "Queen of textiles" since the 27th century BC.
A little bit of self-care goes a long way.
Frequently Asked Questions (FAQs)
Is it good to sleep on silk sheets?
Silk flat sheets provide a luxurious, peaceful sleep unlike anything else.
Silk bedding will protect your skin and hair from friction caused by tossing and turning during sleep.
In addition to being hypoallergenic, silk sheets provide numerous natural health benefits that allow you to rest soundly and wake up feeling refreshed.
Are silk sheets ideal for all seasons?
The natural properties of silk sheets, such as their strength, breathability and temperature regulation make silk sheets ideal for both summer and winter use. Silk sheets help you stay warm if you're cold by trapping air in between the lattice structure and cool if you're hot by venting excess heat. All the while keeping you in the optimum sleep temperature zone.
They are also the best choice for anyone who suffers from night sweats, since silk is hydrophobic it resists absorbing water and evaporates water effectively, keeping you dry and comfortable throughout the night.
What are the benefits of silk sheets?
Silk provides you with a comfortable night sleep and benefits your overall wellbeing.

Here are just some of the many benefits:
• Reduce sleep wrinkles
• Hypoallergenic
• Non-irritating, resists mould, mites and mildew
• Antibacterial, Anti-fungal, Anti-microbial
• Regulates body temperature into the optimum sleep zone
• Prevent hair frizz and breakage
• Retains the natural moisture of your skin and hair

Switch to MayfairSilk® and enjoy the best night sleep, you deserve it.
Why are silk sheets better than cotton?
Protein-based fibres like silk and wool are breathable and naturally moisturizing.
While cellulose-based cotton is hyper absorbent and can cause hair and skin dryness and irritation.
Silk is moisture-wicking and has temperature-regulating properties, keeping you in your optimum sleep temperature. Whilst cotton initially feels cool and dry, it quickly becomes wet and once wet becomes hot and uncomfortable causing tossing/turning.

Additionally, silk bedding is hypoallergenic, non-irritating, and resists mould and mites. Cotton's moist and warm environment is a breeding ground for bacteria and dust mites due to the warm/damp conditions.

"Having used the white company in my fetish to have the best, softest bedding I accidentally came across Mayfair silk - on a rash moment I decided to jump in " literally " and buy some - oh my word its just simply another level from anything I have ever slept in - the silk is so soft the quality unrivalled - customer service unequalled. Trust me take the plunge and buy some !!"
- Stephen H, ***** Customer Review
Do Mayfairsilk flat sheets have any detailing?
Our silk flat sheets have a 10cm fold at one end finished with a strip of piping for a modern contemporary look.
The piping is either colour matched to the sheet as standard, or available in contrast piping on select colours.