Quiet Luxury and Silk Bedding
In this article we explore the essence of quiet luxury, sleep and silk bedding.
Although there isn't an established definition, quiet luxury represents a discreet approach to refined dressing, where high-quality basics are worn in a manner that exudes luxury without being ostentatious.
This enduring style, also known as "stealth wealth", embodies the adage:
"Money talks, wealth whispers."
A growing number of celebrities, including Gwyneth Paltrow and Victoria Beckham, embrace this style, as do royals like the elegant Catherine, Princess of Wales GCVO, and King Charles III. Quiet luxury emphasises understated, timeless wardrobe staples crafted from exquisite materials with impeccable attention to detail. The absence of overt designer logos ensures a subtle and elegant appearance that is never flashy.
The allure of quiet luxury lies in the knowledge that "if you know, you know."
When it come bedding, silk is increasingly popular due to its multiple benefits to skin, hair and sleep. Silk bedding is hypoallergenic and anti-bacterial compared to its cotton counterpart. If you are looking for a level of luxury above 1000 thread count Eygptian cotton, then Mulberry silk bedding crafted from Grade 6A long fibre in 22 momme+ is where it is at. However, most silk bedding companies have a shiny silk material which can be perceived as loud.
Mayfairsilk is the first company to introduce matte silk in 22 momme thickness for its silk sheets and duvet covers and 25 momme thickness for its silk pillowcases. It is dreamily luxurious to touch without the extra sheen, or being too slippery.
Mayfairsilk's co-founder, Marcus Ubl, has consistently championed elegance in design and quiet luxury. Thus, when designing the brand logo, he directed a clean, simple aesthetic. The subtle, minimalist tag represents the finest Grade 6A Mulberry silk with a matte finish.
Marcus's designs are marked by clean lines, reflected in the launch of Mayfairsilk's pillowcases, available in a selection of gentle solid colourways with the option of refined piping details. This design philosophy extends to the silk sheets, duvet covers, and the newly released Oxford Silk pillowcase range.
Marcus says "White and Ivory serve as timeless hues for any bedroom, ensuring a tasteful and fail-proof choice. Layering on top of this base can be any of our soft pastels or solid colours, perfectly encapsulating the tranquil essence of restful sleep. Layer the pillowcases with a Euro sham and scattering of Boudoir cushions for a timeless look.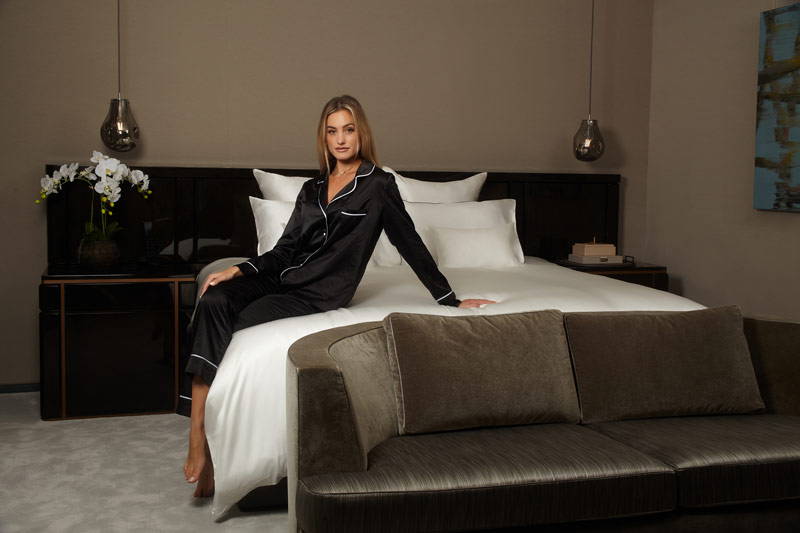 While individual preferences may vary, certain pastel colours are believed to promote relaxation and induce sleep. Some of the best pastel colours for sleep include:
Pastel blue: This calming hue is often associated with feelings of tranquility and stability, which can help relax the mind and encourage sleep.
Soft green: Evoking the serenity of nature, gentle shades of green that are more like aquamarine or light teal can create a peaceful atmosphere conducive to restful sleep.
Pale pink: Soft shades of pink are often associated with warmth, comfort, and nurturing feelings, which can help create a relaxing environment for sleep.
Oyster grey: A subtle and neutral colour, light grey can help create a soothing space that encourages relaxation and sleep.
When choosing colours for your bedroom, consider incorporating these pastel shades into your decor, such as wall paint, bedding, or accent pieces, to create a peaceful and sleep-inducing environment.
Mayfairsilk's high-quality silk, available in 22-25 momme, is meticulously hand-cut by skilled artisans to ensure the perfect fit. The silk is treated with the finest dyes, adhering to the OEKO-tex Standard 100 certification, ensuring the products are free of harmful substances.
Through quiet luxury, Mayfairsilk promotes an atmosphere of serenity and sophistication, fostering a restorative night's rest.