Embracing the Barbiecore Aesthetic with Mayfairsilk's Pink Pillowcases and Silk Sheets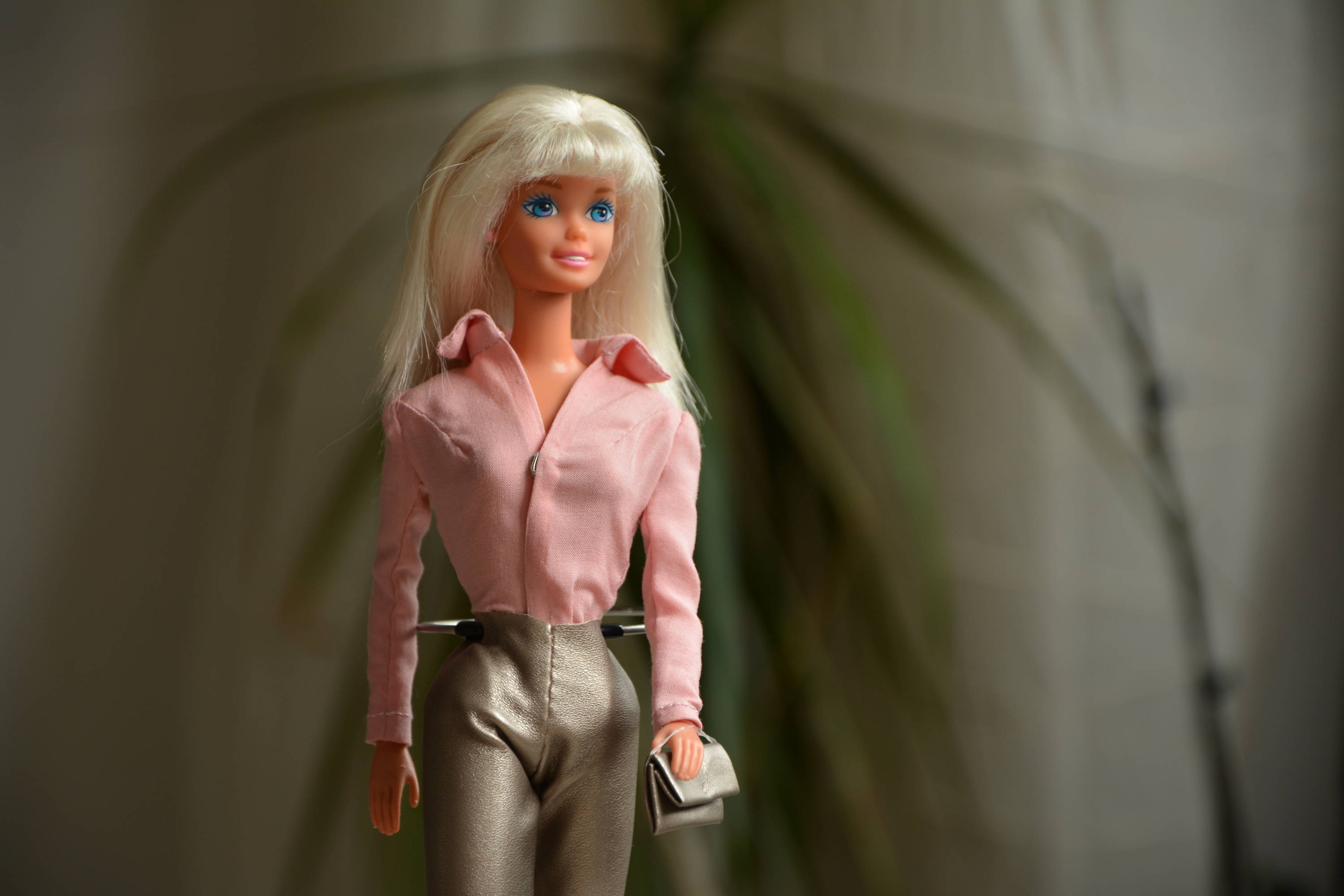 In the bustling city of London, the iconic image of Barbie is hard to miss - from theatre marquees and sprawling banners to gigantic screens and even the ubiquitous London buses!
As the enigmatic doll from our childhood dominates headlines, a renewed focus is being cast upon the colour PINK in the realm of fashion and interior design.
The colour pink, now intrinsically associated with Barbie, encapsulates the spirit of this timeless symbol. It personifies femininity, exudes glamour, and fosters a universe teeming with innovation and fantasy. The vibrancy of pink carries an impactful message of self-assuredness, optimism, and the courage to dream on a grand scale.
With Mayfairsilk's pink pillowcases and silk sheets, you can bring the Barbiecore aesthetic into your own space, celebrating this maximalist style with a touch of elegance and luxury.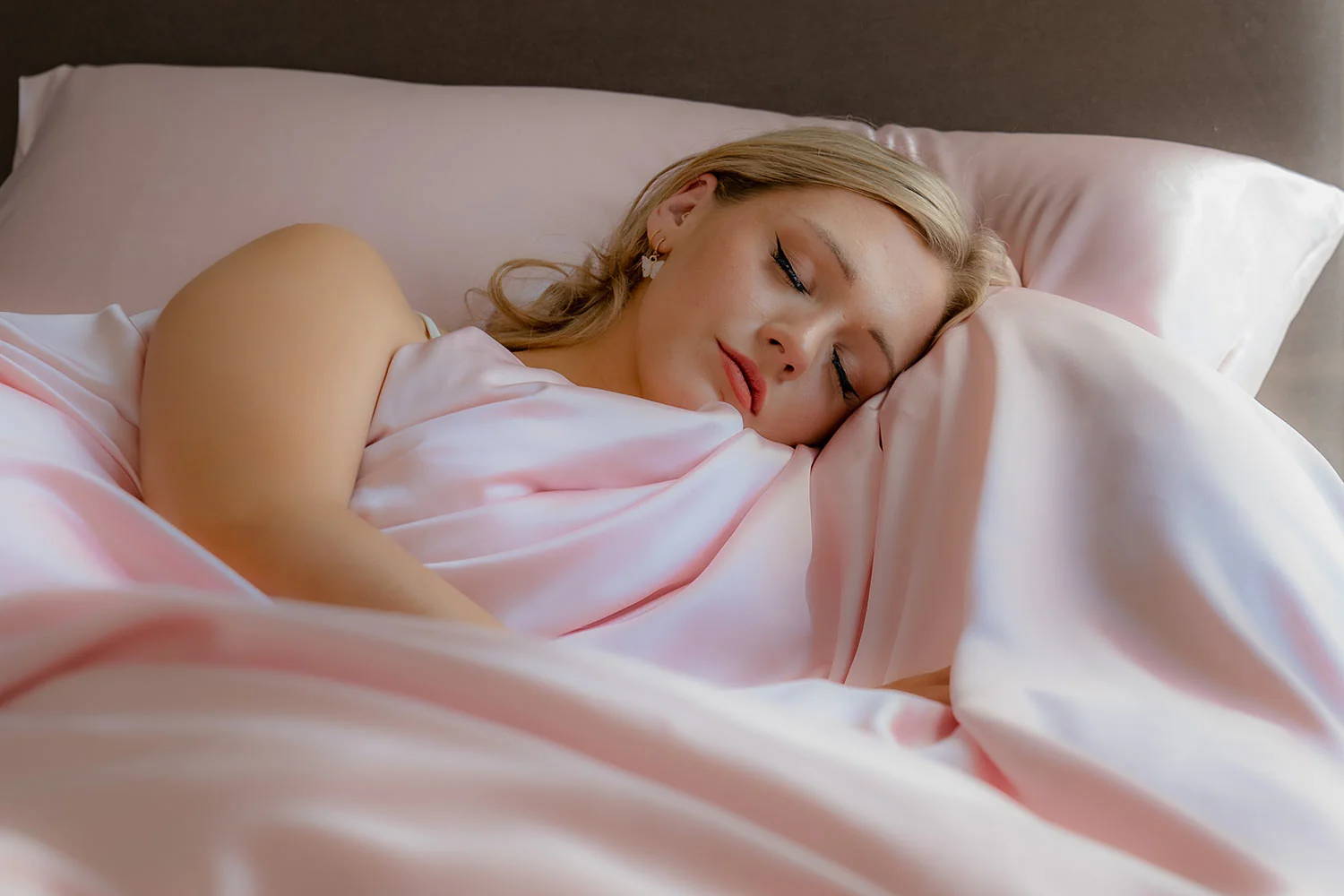 a) The freshness of Cherry Blossoms with solid pink:

Lindsey: "I already had some lovely plain silk Mayfair pillowcases and this print is just as comfortable to sleep on, with the bonus of the gorgeous, very feminine Cherry Blossom design. So pretty and fresh for summer!"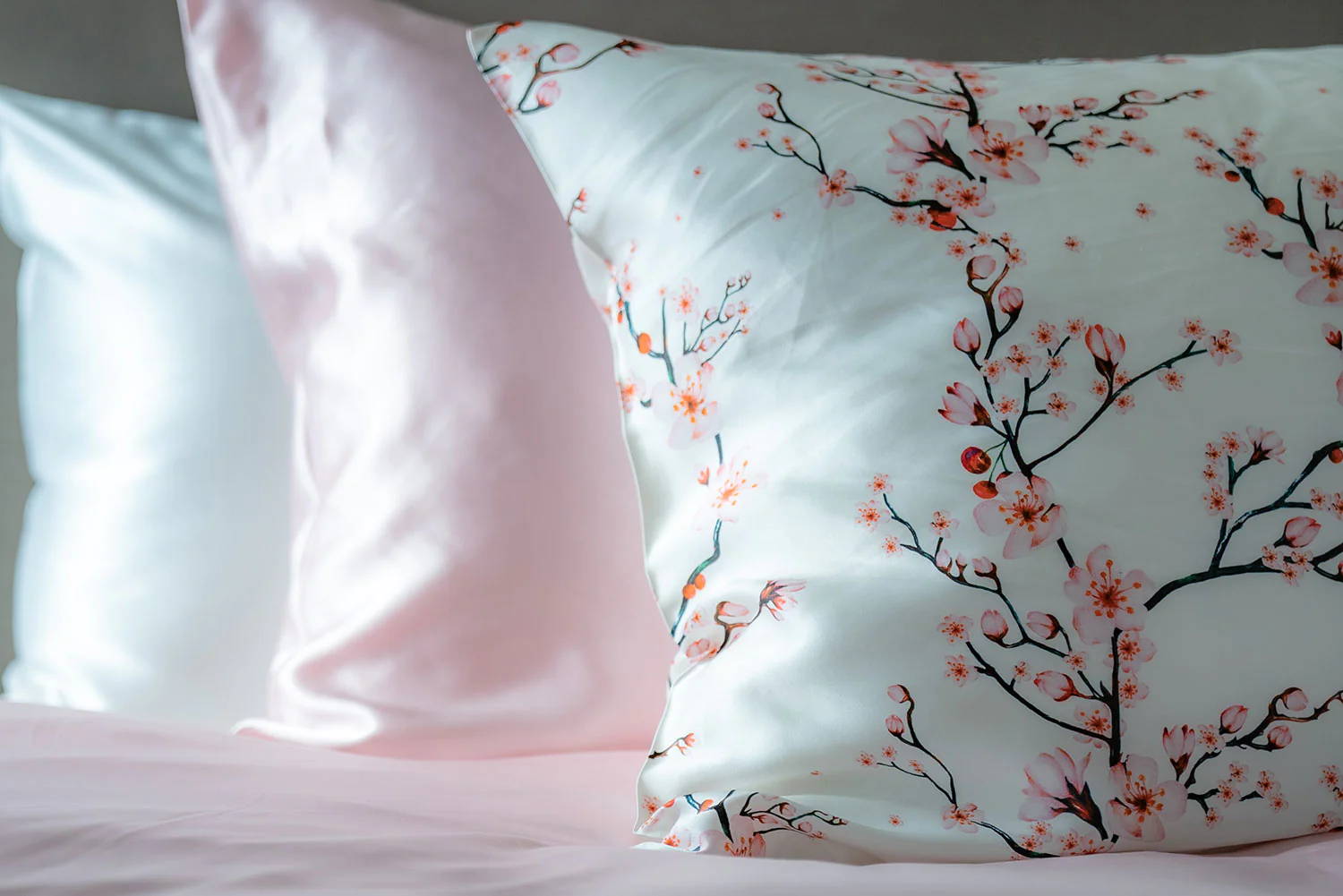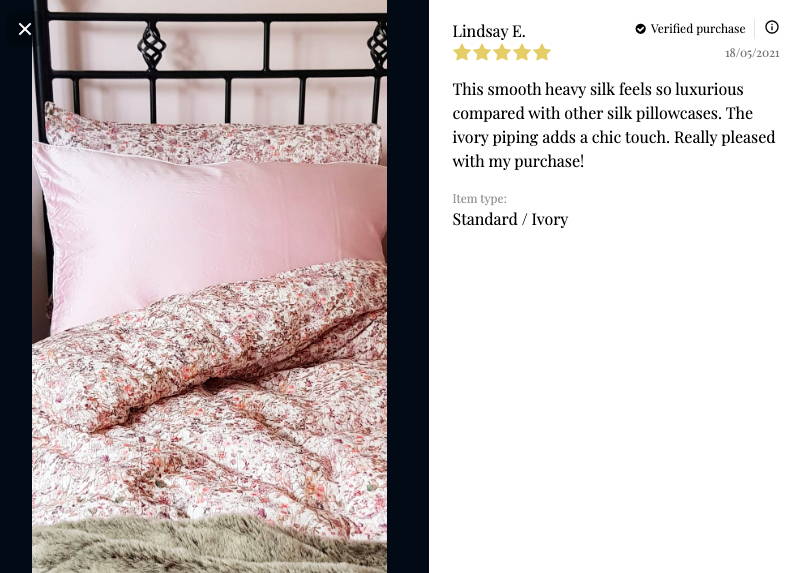 Pink silk bedding can create an incredibly luxurious and soft aesthetic in any bedroom, and it pairs exceptionally well with floral patterns.
The shimmering, gentle tones of the pink silk can add a sense of serenity and romance, while floral patterns introduce a vibrant, natural element.
The rich detail in the flowers, whether it be intricate roses or sprawling daisies, can balance the simplicity of the smooth silk, creating a dynamic, yet harmonious design.
The colors within the floral patterns can pick up the undertones of the pink silk, enhancing its visual appeal, while the tactile contrast between the silk and printed fabrics makes for an interesting sensory experience.
Overall, the fusion of pink silk bedding and floral patterns can create an inviting, comforting, and aesthetically pleasing bedroom decor.
3. Mix it up minx: Charcoal and Greys with Pink

Pink silk bedding, with its gentle elegance and soft shimmer, pairs exceptionally well with tones of charcoal and grey.
These shades add a level of sophistication and modernity, while simultaneously highlighting the delicate nature of the pink silk.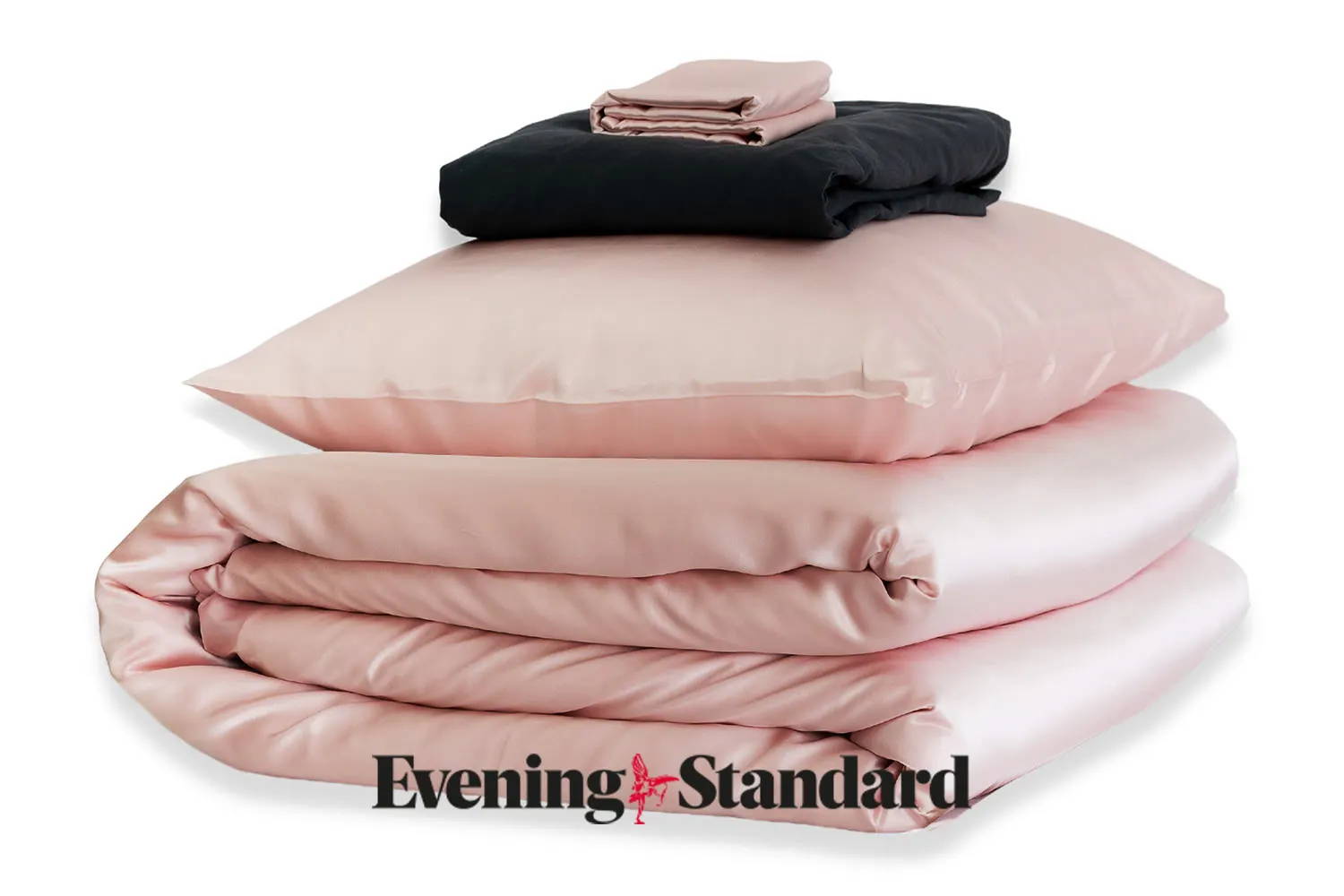 A popular local newspaper in London, Evening Standard quotes:
'Mayfairsilk's Precious Pink and Charcoal Silk Duvet Set might be one of the most expensive silk bedding sets of the lot. But it also comes from the wholly impressive Mayfairsilk company, who produce some of the best silk products out there with impressive quality to match.
Charcoal and grey have a grounding effect, offering a stark but harmonious contrast against the light, airy quality of the pink silk. This juxtaposition creates a balance between feminine and masculine elements, lending a versatile appeal to the overall decor.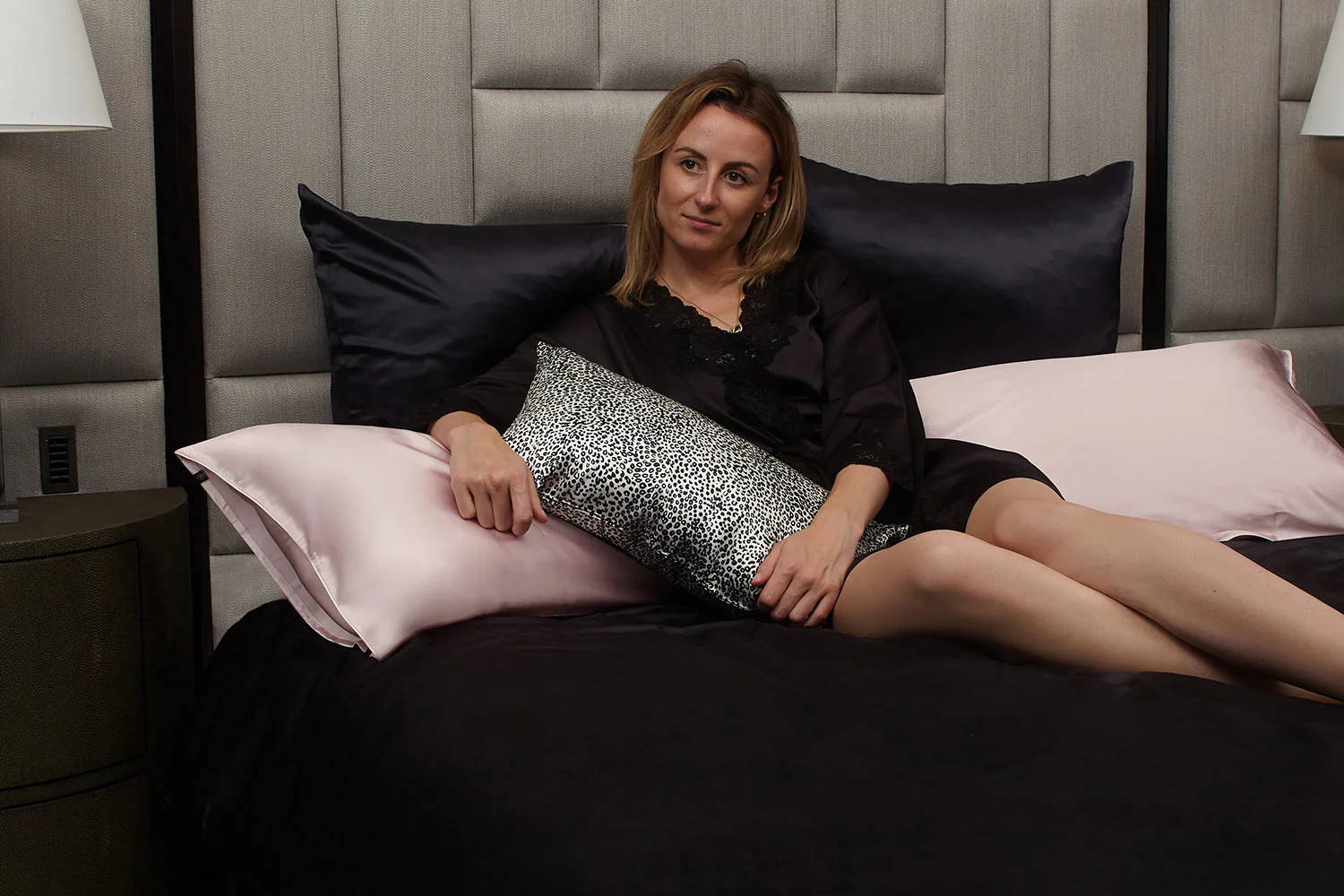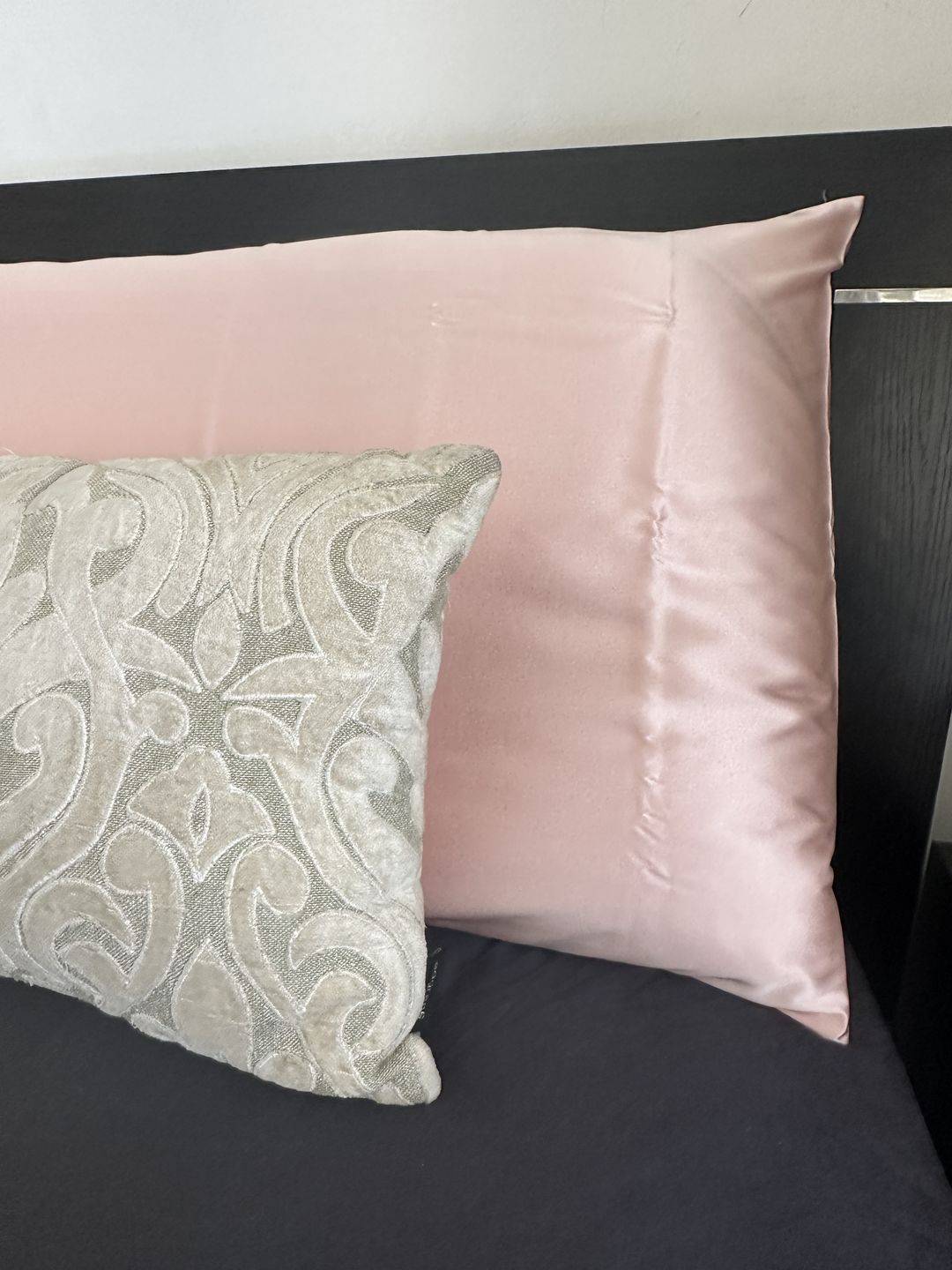 Pastels often go well with grey and a new interior design trend for 2024 includes mixing grey tones with pastel ones.
Additionally, the muted backdrop of greys allows the pink silk to truly shine and take center stage, while the sleek, smooth texture of silk provides a luxurious counterpoint to more matte or rough-hewn grey textures.
In essence, the pairing of pink silk with charcoal and grey tones results in a chic, contemporary aesthetic that's both visually striking and soothing.
"Finally a silk pillowcase that is not flimsy
- 25 momme matte goodness feels so good!"
- Sophie K.
And lastly whist you slip into your pink sheets or rest your head on your pink silk pillowcase, why not team it with a pink sleep mask in pure silk - ideal to keep the delicate area under your eyes protected against dryness -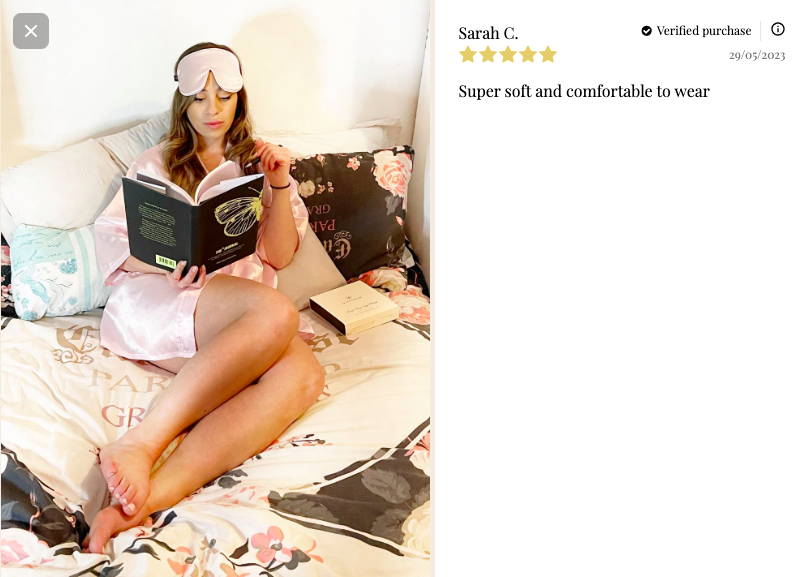 To conclude, infuse your sleeping sanctuary with an energizing burst of positivity and passion through Mayfairsilk's delightful range of pink silk products.
By embracing these luxurious ideas in silk, you can transform your bedroom into a vibrant celebration of the Barbiecore aesthetic, a space that promotes positivity and encourages the pursuit of dreams.