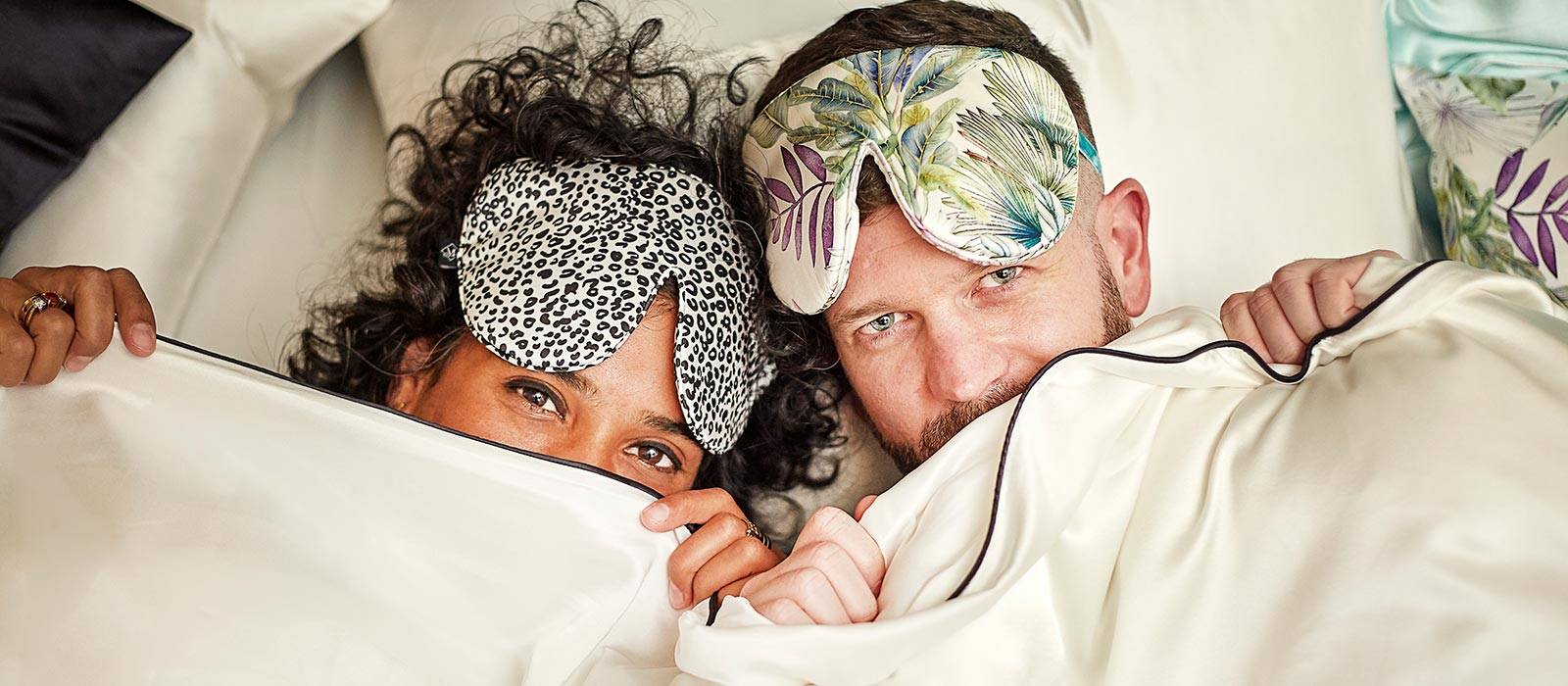 Tradition meets modern design and weaving technology
Hand-crafted, finest grade 6A Mulberry Silk | 22 Momme

Block the light with this pure silk sleep mask | 22 momme
Wearing a silk eye mask helps you relax and fall asleep with ease at any time and in any place, including while travelling.
Before each sleep mask is made, we begin by selecting only the finest 100% long-strand Mulberry Silk, inside and out. Befitting such a beautiful textile, skilled artisans carefully craft silk eye mask into our proprietary design with an inimitable finish and feel.
Our unique silk eye masks are designed to soft, plush, well fitting, lightweight and comfortable.
Despite being soft, the silk eye mask is well structured so there is no pressure on the eyes, while keeping you in complete darkness. It blocks out ambient light without compressing the nose, eyelids or temples while sleeping.
These silk eye masks are breathable and temperature regulating to stay cool and dry throughout the night. Mayfairsilk eye mask will become your go-to travelling and bedtime buddy.


Why choose our Silk Eye Mask?
It is crucial to treat the delicate skin around the eyes with extra care. Using 100% silk for this sleep mask is ideal because the soft material protects the skin, allows it to breathe, stays cool and prevents wrinkling and creases.


Good for skin
Our slip silk eye masks are soothing, gentle and ideal for sensitive skin. Furthermore, its smooth surface is soft on the eye area and reduces the formation of creases as you sleep, thereby preventing wrinkles. All our silk is Certified Standard 100 by Oeko-Tex you can rest assured that your delicate eye area and face are covered by the most indulgent, divine fabric that is free of all harmful chemicals and dyes.


For good sleep
There are many things that can disturb your sleep causing a premature end to your deep slumber, most notably this is light and noise for most people. The light receptors in our eyes signal to the body that it's time to wake up, suppressing melatonin and promoting waking chemicals. This is fine if you've had an early night and ready to arise with the sun, but if you're burning the midnight oil, or trying to sleep during daylight hours due to travel or jetlag, a little help from this eye mask will have you falling back to sleep like turning out the lights.


Supreme Comfort
Our silk eye masks are extremely soft, well designed, stay dry and maintain a comfortable temperature. Silk is a smooth and luxurious fibre that feels divine against the skin, especially the delicate area around the eyes. We have designed these sleep masks with elasticated velvet straps that you tie once for the perfect fit.
---
Frequently Asked Questions (FAQs)
Does this sleep mask completely block the light?
It sure does! We designed 20+ prototypes before settling on our current design. It is oversized with a deep cutout to wrap around your nose bridge.
Pinch or adjust the 'wings' so that no light creeps in around the nose. This is uninterrupted, pure sleeping bliss especially if you're light sensitive.
Is this silk sleep mask comfortable to sleep in?
Yes, it is. Customer feedback confirms the comfort offered by this sleep mask is unparalleled. Irresistably soft silk on the outside, and filled with mulberry silk floss on the inside. It has the perfect amount of padding and the positioning of the straps means there's no pressure on the eyes.
We wanted to make the perfect sleep mask, and we think we did it. Don't take our word for it though, read the reviews from other customers.
I find a lot of masks too tight, is this adjustable?
We know exactly what you mean. Other masks are either too tight or loose, which is why we designed our sleep masks to be adjustable.
We utilise two elasticated velvet straps that you tie-once for the perfect fit. Then you just slide the mask and and off as it's perfectly sized for you.
How to wash this silk sleep mask?
Washing is simple - either handwash or washine wash using a delicates laundry bag on a delicate cycle using detergent designed for silk/wool.
After washing, simply press between two towels gently to transfer most of the water into the towels, reshape and hang dry in the shade (it will dry quickly).
Do not hang over a heater, it's not needed and will shorten the lifespan of the silk and the elastic in the straps.
Read more on how to care for silk here.