Noble Isle, a fine fragrance Bath & Body brand inspired by the British Isles.
1x Rhubarb Rhubarb! Hand Wash (75ml)

1x Golden Harvest Body Hydrator (75ml)

1x Summer Rising Bath & Shower Gel (75ml)

 

Presented in a Gift Box with Grosgrain ribbon
Combine this with your Mayfairsilk pillowcase and voila!  
Wake up to even more radiant skin.
The science behind MayfairSilk pillowcases and glowing skin is simple.
Unlike cotton, which absorbs 27 x its weight in water, silk on the other hand absorbs only 0.3 x weight, leaving your skin's natural moisture intact.
It is naturally hypo allergenic, anti-bacterial and mite free which means you don't have to deal with pesky germs attacking your skin at night. It's also thermoregulating so you don't overheat and you don't get chilly. It's no wonder it's been regarded as the Queen of Textiles for millennia. Read more about the science behind silk here.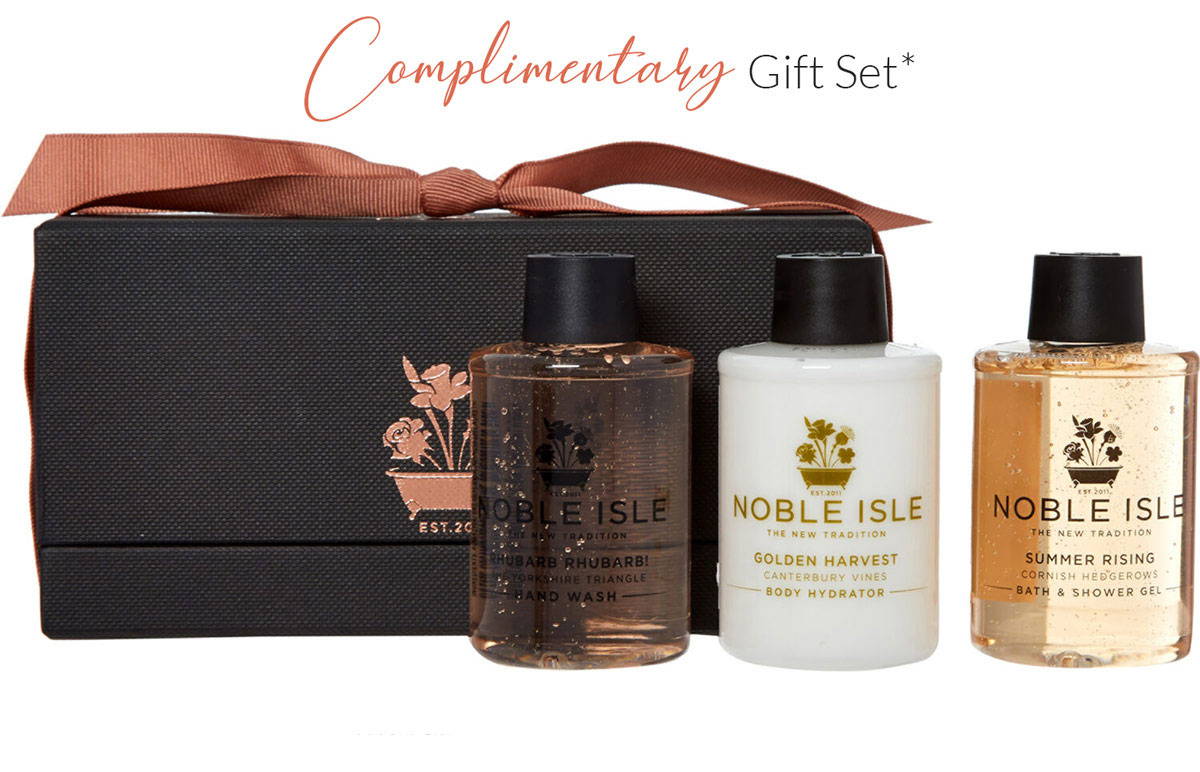 *How to get your Noble Isle Gift Set? We will be running some special promotions announced by email so look out for those.
More about the Noble Isle Gift Set
1) Rhubarb Rhubarb! Luxury Hand Wash

(75ml)
Award-winning, this luxury Hand Wash is rich in vitamin C and calcium thanks to the abundance of Rhubarb, well known for its invigorating and cleansing properties.
Both aromatically and aesthetically pleasing, this popular, pale pink Hand Wash will turn washing your hands into the ultimate sensory experience.
A bittersweet fragrance reminiscent of the dewy wake-up of a Yorkshire spring, with cleansing extract of 'forced' rhubarb and notes of juniper berry and muddled rosemary.
Natural, antibacterial properties, that contain natural cleansers and are non-drying.
Vegan, paraben-free, SLS-free, gluten-free and cruelty-free.
Fragrance Notes
Top notes: Rhubarb, Juniper Berry,
Heart notes: Rosemary, Tarragon
Base notes: Moss, Cedarwood
2) Golden Harvest Luxury Body Hydrator (75ml)
This Body Hydrator is a light, cooling water-based luxury Body Moisturiser that is intensely hydrating.
Gliding on the skin like silk, its' gel-like consistency leaves the skin feeling cool, plumped and soft. Providing long-lasting comfort and hydration to the skin whilst also delivering a truly enriching sensory experience. Created as an aromatic golden fruit, earthy woods and musk fine fragrance, combined with antioxidant English Grape extract.
A glorious blend of mellow fruitfulness inspired by fruits of the vine with notes of violet leaf, sun-ripened grape and green apple, embellished with the gentle fizz of juniper berry and antioxidant grape extract from the North Downs of Kent.
Vegan, paraben-free, SLS-free, gluten-free and cruelty-free.
Fragrance Notes
Top notes: Juniper Berry, Green Apple, Watermelon
Heart notes: Violet Leaf, Rose, Jasmine
Base notes: Oak Moss, Patchouli, Musk
3) Summer Rising Luxury Bath & Shower Gel (75ml)
This immaculate Bath and Shower Gel is the perfect cleanser for the skin.
An immaculate fragrance evoking the beginnings of summer, with extracts of toning elderflower and antioxidant-charged gooseberry with clean notes of orange blossom, moss and cut grass.
Vegan, paraben-free, SLS-free, gluten-free and cruelty-free.
Fragrance Notes
Top notes – Orange Blossom, Tangerine
Heart notes – Nutmeg, Cut Grass
Base notes – Oakmoss, Musk