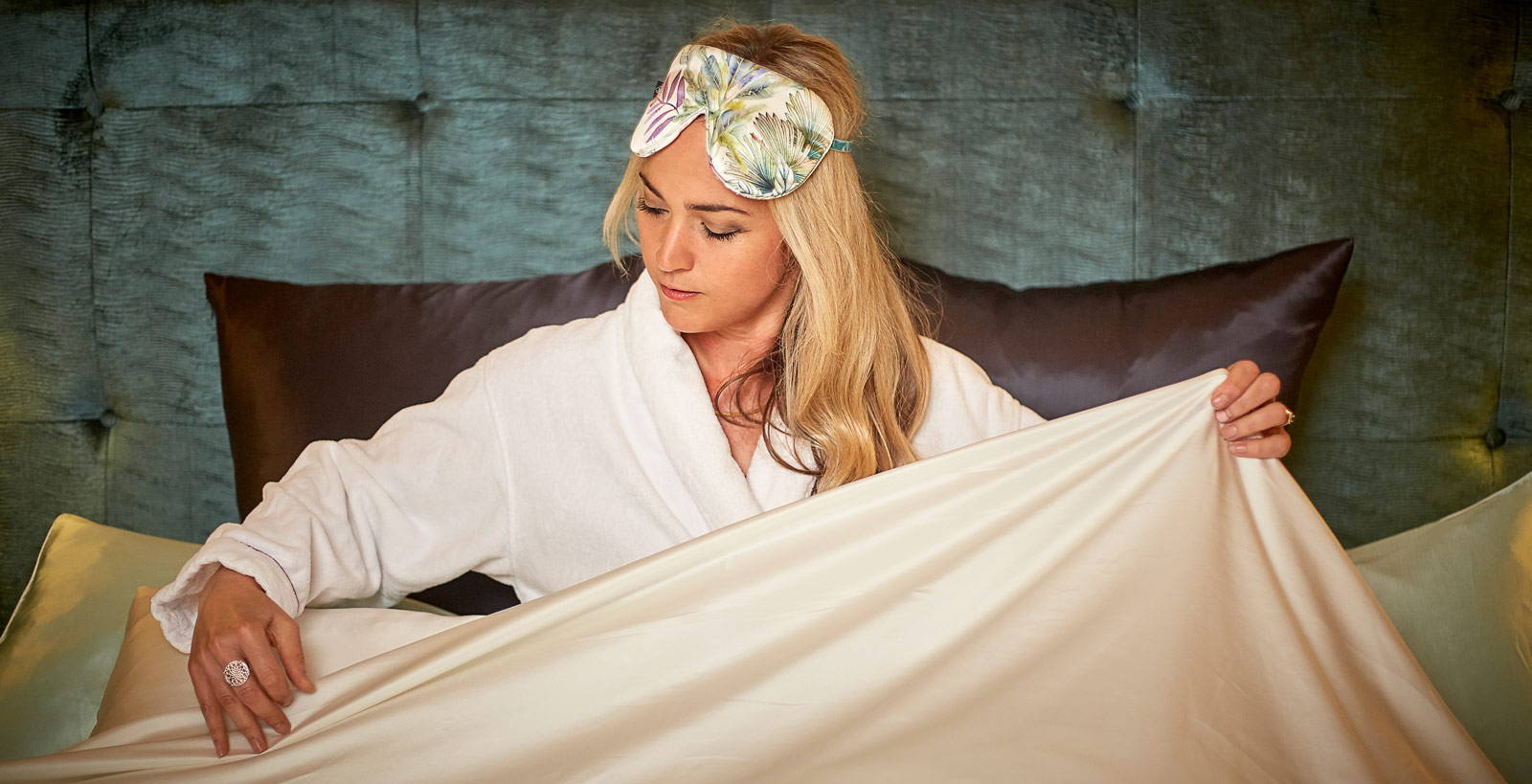 MayfairSilk™ - tradition meets modern design and weaving technology
Hand-crafted, finest grade 6A Mulberry Silk, 22 momme
Sleep upgraded, simple.

Collection:

Silk Flat Bed Sheets (Top Sheet)
Pure Mulberry Silk Flat Sheets - 22 Momme - Finest quality, guaranteed
MayfairSilk flat sheets begin with only the finest 100% long-strand Mulberry Silk. We employ the latest modern technology with a specialised weave and finishing process to produce an exquisite 22 Momme, indulgent fabric, that is machine-washable. A refined matt sheen and an incredibly smooth, supple hand feel; our silk brings pleasure in the simplest of moments.
Our flat sheets come in two styles, simple with a trim of colour matched detailing on one end, or with contrast piping on one end to match the pillowcases in the same colour.
Consider this ...
"Cotton absorbs 27 times its weight in water. This makes it ideal for bath towels but when it comes to bed linen it strips the natural moisture in your skin and hair making it dull and dehydrated whilst you sleep wrapped in it all night. This is less of an issue in your younger years, but as we age our skin naturally becomes drier and elasticity reduces. Over time sleeping on cotton leads to pre-mature ageing, brittle hair and the moisture it absorbs is a breeding ground for bacteria and dust-mites.

MayfairSilk is breathable and absorbs less than 0.3 times its weight in water and has moisture-wicking properties which evaporates excess moisture quickly whilst maintaining the skin and hair's natural moisture levels. This is why as we get older, sleeping in silk is a helping hand to slow down ageing. Sleeping in silk helps retain the skin's radiance and adds lustre to your hair. It is anti-bacterial, anti-mould, dust mite-resistant, thermoregulating and hypoallergenic.

This is why leading skin care speicalist, doctors and dermotologists recommend MayfairSilk pillowcases and bed linen."
MayfairSilk Flat Sheets (Top Sheet):
22 momme, made from the finest grade of Mulberry Silk.
Woven to create an extra-soft and luxurious feel against your skin.
Maintains skin and hair hydration aiding int better skin luminance and shinier hair.
Reduces sleep creases and bed hair.
Has natural temperature controlling properties so you're comfortable year-round.
Hypoallergenic and provides relief for sensitive skin.
Anti-bacterial, anti-mould and dust mite-resistant.
Hand-finished and pre-shrunk to match specifications.
Easy to clean, dries quickly and stays fresh longer (requires less washing than cotton).
Certified Standard 100 by OEKO-Tex (free from all harmful dyes and chemicals).
Durable and long-lasting.
Sustainably made and bio-degradable.
You can look forward to over a decade of use when following our care instructions (that includes machine-washing).
There simply isn't a more ideal, luxurious, comfortable, fabric to sleep in for 3,000 hours over the next year, or 30,000 hours over the next decade, than MayfairSilk.
Made to last - you can look forward to over a decade of use when following our care instructions (that includes machine-washing).
Discover for yourself why silk is referred to as the "Queen of textiles" since the 27th century BC.
Go on and pick your very own MayfairSilk pillowcase ... a little bit of self-care goes a long way.