Collection:

Mulberry Silk Pillowcases
Snuggle into these exquisite Mulberry Silk Pillowcases (UK Standard / US Queen), carefully handcrafted from the finest 25 Momme Silk with our bespoke weave and finish.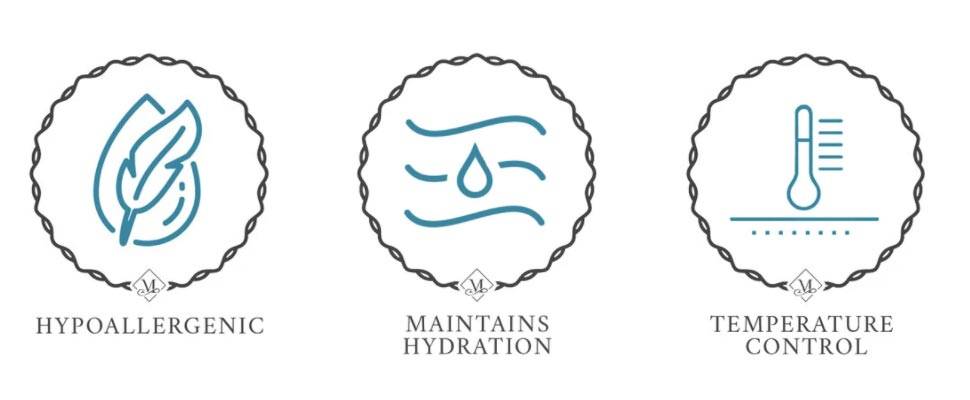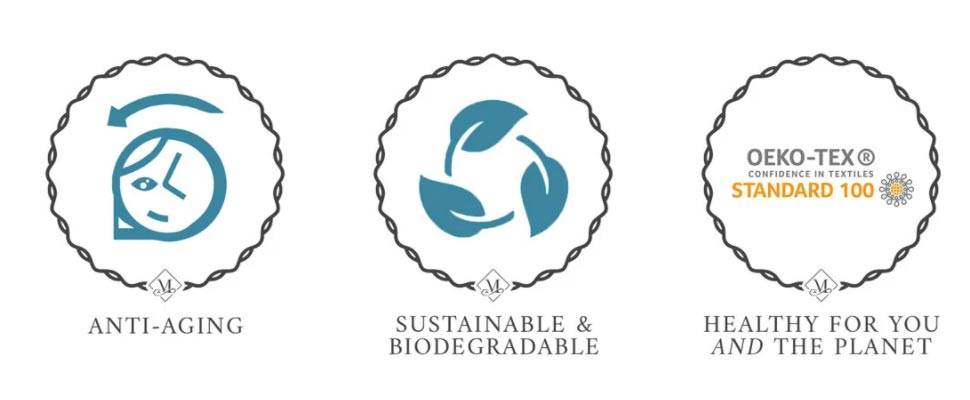 "Bought as a present for my daughter. Arrived on time and beautifully presented. My daughter is delihted with the pillow case saying it's the best she's ever had."
Peter B.
30 DEC 2021
"Very soft and nice pillowcase. I love it, it's my first silk pillowcase but now I don't want to come back to cotton!"
Sheldon A.
16 SEP 2020
"A friend recommended this website and I can now see why. Wonderful customer service, timely service and my white pillowcase with charcoal piping is nothing short of exquisite."
Karen W.
21 NOV 2021
Sleep better with 100% Pure Mulberry Silk Pillowcases in 25 Momme
Standard Silk pillowcases (US Queen) are naturally hypoallergenic, impeccably smooth, temperature regulating and reduce hair breakage / frizz.
These silk pillowcases are free from all harmful chemicals and dyes in manufacturing and they naturally reduce the formation of dust mites, fungus, mould, and other allergens.
Measuring 50 x 75cm, this is the most popular and common pillowcase size, designed to perfectly fit the width of a UK King bed (measuring 5ft | 150cm across).

All our silk pillowcases are handcrafted from the highest Grade 6A long-fibre Mluberry Silk and have become recognised as the ultimate sleep accessory due to the advantages they offer for your skin and hair.

Overview
Silk has been regarded as the Queen of Textiles for over 4 millennia, and a prized secret of the orient for 2.5 millennia due to it's exquisite feel and ability to maintain your skin's natural beauty and youthfulness.
How? This is a good question, and it's due to a number of factors that we will explain in brief below.

Silk is recommended by dermatologists and hairdressers as it helps your skin and hair to smoothly slide across the pillow at night, whereas Cotton absorbs and retains moisture from your skin and hair, ironing in sleep wrinkles and causing hair breakage. Silk won't dry out your skin and being a natural fibre that's hypoallergenic, it's ideal for people with sensitive skin.
Silk pillowcases for hair
Every night your hair endures hours of being crushed up against your pillow regardless of your chosen sleeping position.
This constant friction translates into dry, frizzy hair, more prone to split ends and a more difficult hairstyle to manage in the morning.
Silk pillowcases offer a wonderful alternative for all hair types - fine, thick, curly, dry and oily - lush, exquisite and impeccably comfortable, your tresses will be tangle free with greater luminance.
Silk pillowcases for skin
Being far less absorbent than a classic cotton pillowcase, silk pillowcases won't extract the moisture and oils from your skin overnight. This is one of the reasons that silk pillowcases improve the appearance of fine lines and wrinkles, as they help to ensure natural hydration is maintained.
The easiest way to upgrade your bedtime beauty regime is with a pure mulberry silk pillowcase with a high Momme, such as MayfairSilk's 25 Momme pillowcases. Hypoallergenic and calming to the skin, the super-smooth texture not only feels great but helps you avoid facial sleep creases.
Reasons to Choose mayfairSilk Pillow Covers
Reducing Hair Breakage
Our Mulberry Silk pillow covers maintain hair hydration and reduce hair tangles, frizz, and pulling throughout the night.
Reducing unnecessary breakage, hair loss and messy hair in the morning.
Soothing to the skin
For many with sensitive skin, silk pillow covers have proven to be a lifesaver especially with eczema and acne.
Hypoallergenic, anti-bacterial, anti-microbial and free from all harmful chemicals and dyes, it's extremely kind to the skin.
You don't have to suffer irritation from your bedding any longer.
Sleep soundly
Silk is a cool and relaxing fabric that naturally regulates body heat into the optimum sleep zone.
It achieves this through an intricate mechanism of thermoregulation that modern science has been studying to try and emulate.
Being a naturally breathable fabric with exquisite tactile pleasure, it promotes a dreamy, restful night's sleep.
Even in warmer temperatures, it reduces sleep disturbances by reducing your body's need to toss / turn throughout the night as it remains comfortable.
Silk pillowcases are extremely soft on the skin. Cotton, flannel, and wool, which are rough short fibres, can generate creases, lines, and wrinkles around your eyes, forehead, lips and cheeks.
There simply isn't a more ideal, luxurious, comfortable fabric to sleep on for 3,000 hours over the next year, or 30,000 hours over the next decade than MayfairSilk.

Discover for yourself why silk has been referred to as the "Queen of textiles" since the 27th century BC.

Browse our collection of 25 Momme Pure Silk Pillowcases and try one out. We guarantee you won't be disappointed!
Frequently Asked Questions (FAQs)
Why should I use a high quality silk pillowcase?
Adding a silk pillowcase to your sleep routine can help retain your skin's natural moisture. In other words, they won't dehydrate your skin and hair like cotton does.
Silk pillowcases are also a better option for people suffering from acne as it's hypoallergenic and naturally antibacterial.
Likewise, if you have sensitive skin, high quality silk pillowcases are the best choice as they are hypoallergenic, mite resistant, free from harmful chemicals and dyes and calms the skin and nervous system.
Silk's breathability, moisture wicking and tactile properties will produce the most comfortable night sleep.
Along with this, it reduces sleep creases which help prevent deeper wrinkles forming overnight and reduces hair frizziness / matting in the morning.
What are the pros and cons of silk pillowcases?
There are many opinions and myths about silk pillowcases.
So here is the low down on the pro's and con's.

+
• Improves hair lustre and reduces tangles/ frizziness/ breakage
• Hair stays softer and smoother for a longer period
• 25 Momme Mulberry Silk - highest grade 6A long-fibre
• Requires less frequent washing than cotton
• Super soft, comfortable and incredibly smooth
• Hypoallergenic, non-irritating and dust mite resistant
• Temperature regulating for optimum sleep
• When following our care instructions, silk bedding can have a longer lifetime use than cotton
• Sustainable - producing 1kg of silk emits 800x less carbon than cotton and other fabrics
• Doesn't pollute our waterways with microplastics like polyester / synthetic fibres do
-
• Due to the intricate process of creating silk in terms of both time and skill, it has a larger upfront investment than other fabrics
• Requires some small additional care when washing (machine-washable)


Are silk pillowcases good for hair?
Yes, silk pillowcases preserve your hair's natural oils and moisture.
It's smooth action whilst sleeping also helps prevent breakage, hair kinks, frizzy, matted and knotted hair in the morning.
Both oily, dry, curly and red hair alike all benefit from silk's natural properties. Many customers find it even extends their blow dry for a few days.
Are silk pillowcases hot or cause sweating?
On the contrary, high quality silk fabrics are breathable and temperature regulating to help your body maintain an optimum sleeping temperature. If you overheat in the summer, silk is naturally cooling and vents excess heat. In the winter, it provides an insulation barrier if you're cold, creating an air pocket between the lattice structure to warm you up into that optimum temperature band.
Silk helps you enjoy a deeper, super comfortable sleep with less restlessness due to its calming and temperature regulating properties.
Are silk pillowcases difficult to look after? Are they machine-washable?
Our silk is machine-washable and easy to care for when you follow a few simple care instructions.
1) Wash silk separately using a delicate detergent designed for silk/wool.
2) Our silk pillowcases, being 25 Momme can be machine-washed on a delicate cycle or hand-washed.
3) Do not tumble dry. For drying, simply place between two cotton towels and they will absorb 80% of the water out of the silk, then simply hang dry in the shade.
4) Ironing inside out whilst slightly damp, or steaming will relax any creases before use. Your body heat will also relax creases over a few days.