Established in London, MayfairSilk™ has perfected the weave and unique soft-touch finishing for our products to be the highest quality on the market. All our products are designed in London and specially commissioned to meet our exacting specifications.
Elevate your sleep with our exclusive range of bedding options and enjoy the comfort and health benefits that come with this exquisite material. Beauty experts around the world agree that using silk pillowcases helps keep hair soft, moisturised and free of tangles. When you sleep on silk your hair glides effortlessly over the soft material, resulting in smoother, healthier hair.
Say goodbye to sleep creases and discover why numerous skin experts recommend using MayfairSilk™. This will assist your skin in retaining moisture for a more youthful looking appearance.
We're on a mission to do good for our community and our planet. Our material is bio-degradable, sustainable and Oeko-Tex Standard 100 certified.
Our fabric begins with selecting the finest grade 6A long fibre Mulberry Silk. It is then moved to the loom where it is weaved using a combination of time honoured tradition and modern technology before a special finishing process. This imbues our fabric with its trademark qualities of an incredibly smooth hand-feel, thickness, durability, rich lustre and a refined 'matt' finish.
Certified Standard 100 by Oeko-Tex®:
One of the world's best-known certificates for textiles tested for harmful substances. It stands for customer confidence and high product safety. You can be certain that every component of our products, (i.e. every thread, button and accessory), has been tested for harmful substances and is free from all toxic dyes and chemicals.
Higher Momme
Our silk is weaved with a higher momme rating than our competitors, translating into more silk per square inch, luxurious to the touch and longer lasting for daily use.
Design philosophy
Calming, balanced colour palette playing with contrasts and vibrant highlights to create an aura of beauty and happiness after a long day.
Efficient use of inputs
Silk is very efficient with inputs (land, water, resources). Compared to cotton, there is far less impact on land, water, air and is free from pesticides and toxic chemicals, bleaches & dyes. In our production, we ensure that the full fabric is utilised, creating several products from our off-cuts so wastage is at a minimum.
Carbon impact
When measuring production and its impact on the environment, silk has 814x less carbon emissions than cotton, 1360x less than wool and 620x less than polyester.
Silk = 34kg CO2 / tonne of fabric. Cotton = 27,680kg CO2 / tonne of fabric*.
Lifespan
High momme silk that follows our care instructions can be used daily and will far outlast cotton or other textiles. At the end of its life, silk is biodegradable, so it can be composted with your food & garden waste.
Ecologically sustainable
Mulberry trees are grown without pesticides and chemical fertilisers using mostly rainwater. Good production processes capture and treat wastewater. Mulberry trees grow leaves and fruits. Mulberry trees sequester carbon from the air. The leaves are eaten by the silk worms that create the silk. The silk worms are later consumed as a delicacy in Asian countries, left over mulberry tree stems/foliage is fed to cattle, extra waste is used as fertiliser, lower quality silk is used as filling of duvets, Sericin is recovered from wastewater and added to cosmetics, food and pharmaceuticals. And so the cycle continues indefinitely. When considering the full cycle including production, chemicals, extraction, processing etc, silk is a far superior textile than alternatives such as cotton, rayon, polyester etc.
Air, Land and Water
Silk has lower impact than other fibres on our environment:
• Wool creates methane from sheep and deforestation for grazing leading to soil salinity, erosion and decreased biodiversity with a large carbon footprint.
• Cotton uses pesticides, fertilizers, processing chemicals, and dyes and bleaches, regularly polluting water, soil and land. It also has a high carbon footprint.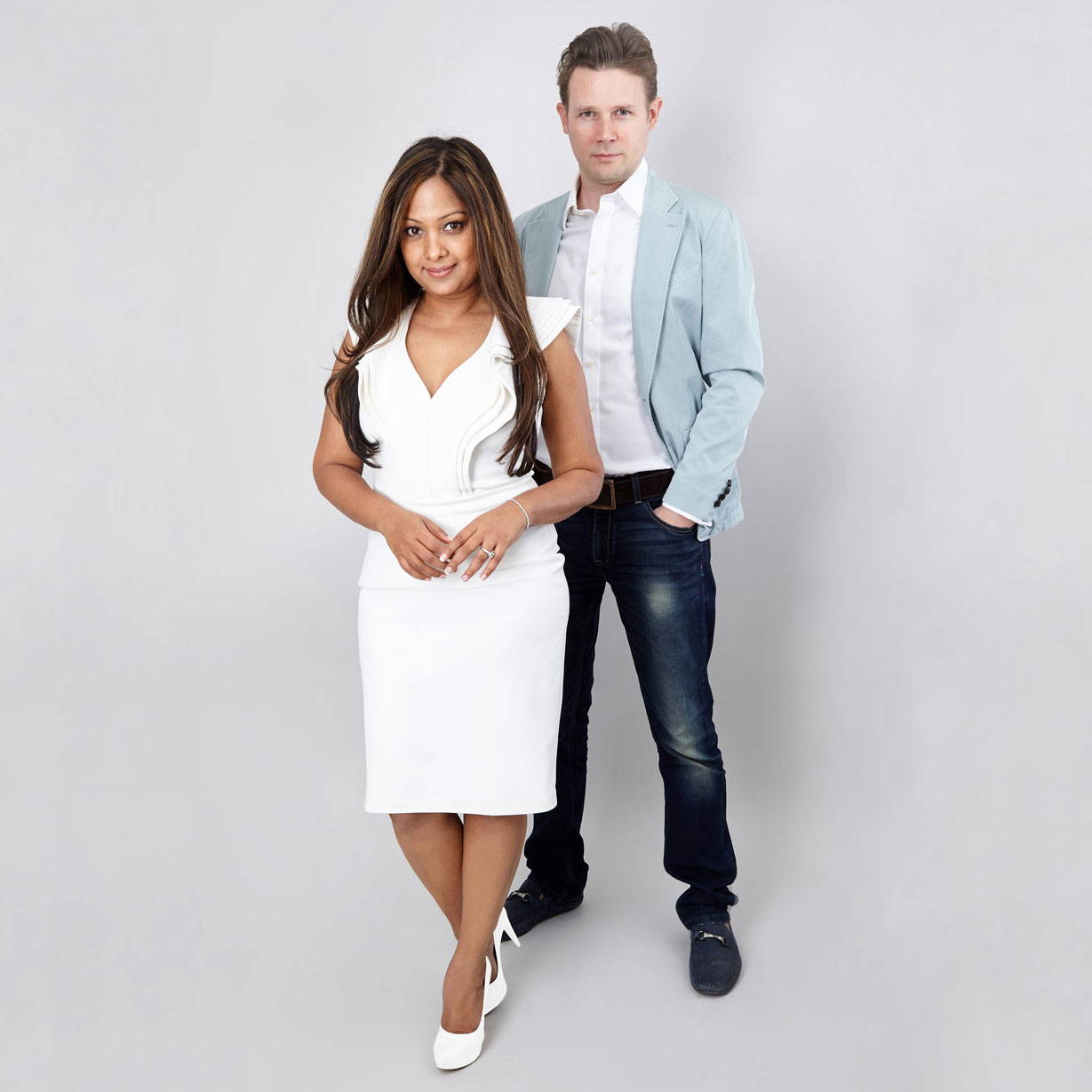 FOUNDERS

 
Marcus and Darshana Ubl have been building successful businesses together since 2011. For them business is about channelling their creativity to produce things of quality that enhance the experience of living.
Other passions besides MayfairSilk are healthy eating, motoring and travel. The story of MayfairSilk stems from how little the world is aware of the benefits of silk and how much they enjoy sleeping in it.
Darshana says:
"Having slept in silk for years and experiencing first-hand the positive difference it has made to my hair, skin and sleep, I decided one night that I wanted to let the world in on my secret. I shared this with Marcus and from that moment on we started our journey into textiles. Sourcing and developing the finest fabrics and finishing processes, colour palette, hand finished silk designs and a timeless bed linen collection with unexpected details that please the senses."