We have teamed up with the French heritage and award-winning skincare brand Gatineau UK to bring you a complimentary gift (RRP £48) for orders over £150* on Mayfairsilk this month.


Gatineau Hydra Aura Eclat de Soie Sleeping Mask (75ml)
A replenishing gel-cream mask to transform dull, uneven and dehydrated skin to smooth, plump and glowing while you sleep.

The Hydra Aura Complex helps smooth lines and wrinkles, rapidly restores hydration levels, improves barrier strength, calms sensitivity and protects against environmental damage.


Éclat de Soie means Radiance of Silk.
Perfect for mature, dehydrated and sensitive skins.

Combine this with your Mayfairsilk pillowcase and wake up to more radiant skin.
The science behind Mayfairsilk pillowcases and glowing skin is simple.
Unlike cotton, which absorbs 27 x its weight in water, silk on the other hand absorbs only 0.3 x weight, leaving your skin's natural moisture intact.
Mayfairsilk is naturally hypo allergenic, anti-bacterial and mite free which means you don't have to deal with pesky germs attacking your skin at night. It's also thermoregulating, so you don't overheat and you don't get chilly. It's no wonder it's been regarded as the Queen of Textiles for millennia. Read more about the science behind silk here.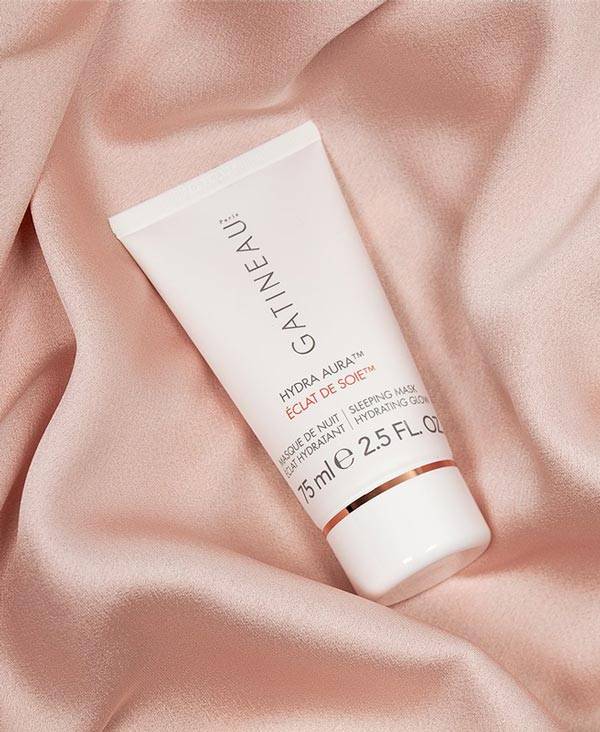 ---
*How to get your hands on this Gatineau Gift (RRP £48)?
We're running a special promotion from 5th - 30th November 2021.
Simply place an order over £150 on MayfairSilk before end November, and we'll add this beautiful product to your order with our compliments.
---
More about the Gatineau Hydra Aqua Eclat de Soie™ Sleeping mask (75ml)
HOW TO USE:
Smooth over face, neck and décolleté using upwards strokes.
Can be used every night in place of your usual moisturiser or 2-3 times a week as a deeply hydrating overnight mask.

INGREDIENTS:
Barbary Fig Extract
A rich source of antioxidants, betalains and polyphenols, to visibly reduce advanced signs of ageing. Polyunsaturated fatty acids and amino acids deliver replenishing and plumping benefits to smooth lines and increase firmness. It helps neutralize the damaging effects of airborne pollutants.
Green Seaweed Extract (Codium Tomentosum)
From the archipelagos of Brehat in Northern Brittany - rich in polysaccharides, amino acids, lipids, vitamin A, and minerals. It balances skin's moisture content, rapidly hydrates, revitalises, protects and leaves the skin radiant looking.
Red Seaweed Extract (Carrageenan)
With exceptional water-binding abilities to hold water onto the skin and increase hydration levels while you sleep.
Dead Sea Salt
Helps to strengthen skin tissue, improve blood circulation, eliminate toxins and balance the skin's natural pH levels. It helps to restore depleted minerals.
Alpine Skullcap (a flowering plant from mint family)
Full of potent antioxidants to reduce the effects of free radical damage from pollution along with calming anti-inflammatory flavonoid compounds to help keep skin looking healthy and glowing.
AHAs from Citric Acid
Smooths skin and reduces the appearance of fine lines and wrinkles leaving a brighter looking complexion.
Vitamin E
A powerful antioxidant that helps protect the skin from external pollutants and free radical damage.
Coconut Oil
Hydrates, smooths and helps maintain the skin's natural barrier.
Shea Butter
Nourishes and conditions.