Mayfairsilk x SISLEY Paris
We are delighted to partner with SISLEY Paris, a French luxury cosmetic and skin care company that develops products based on active ingredients derived from plants.
Our skin follows a 24- hour cycle: during the day, the skin protects itself against external aggressions, whereas at night, the skin devotes itself to repair.
Sisley Research has specifically investigated the mechanisms that naturally take place to assist with this nocturnal repair.
Combine this with your Mayfairsilk pillowcase and voila!  
Wake up to even more radiant skin.
The science behind Mayfairsilk pillowcases and glowing skin is simple.
Unlike cotton, which absorbs 27 x its weight in water, silk on the other hand absorbs only 0.3 x weight, leaving your skin's natural moisture intact.
It is naturally hypo allergenic, anti-bacterial and mite free which means you don't have to deal with pesky germs attacking your skin at night. It's also thermoregulating so you don't overheat and you don't get chilly. It's no wonder it's been regarded as the Queen of Textiles for millennia.
Special this month (Dec 5 - 13):

With each order on Mayfairsilk, we will include a little SISLEY Paris treat from us which includes a sample sachet of their Velvet Sleeping Mask with saffron flowers and a 4ml Velvet Nourishing Creme with saffron flowers. (One complimentary gift per person, whilst stock lasts).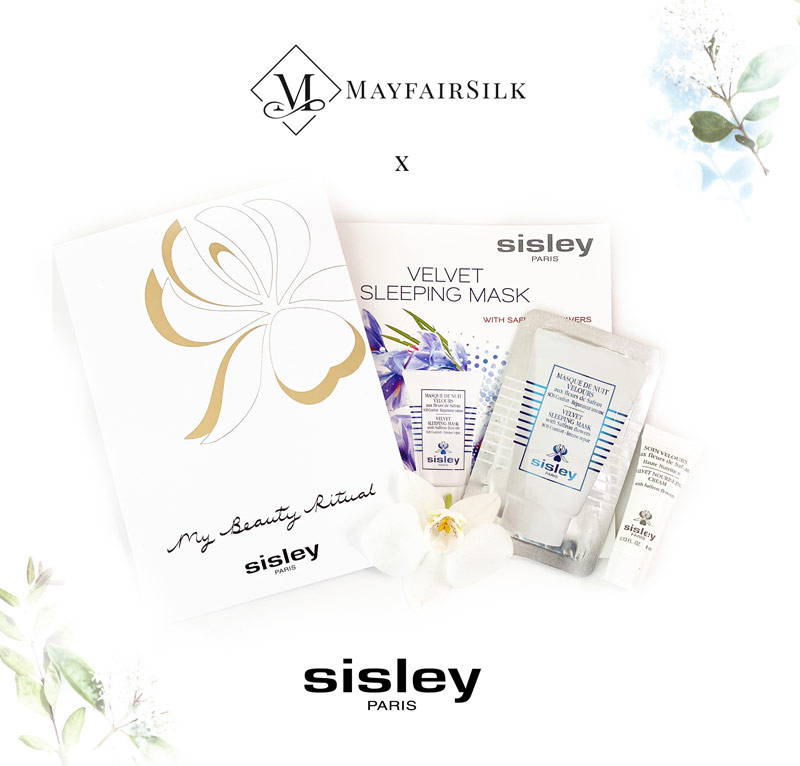 As a special promotion between Mayfairsilk and Sisley, when you make a purchase over £65 on the
SISLEY Paris website
by 25 December 2020,
you will receive a Luxury Sample - 2020 Coffret Fleur (six pieces in a Gift Box - see picture below) when you enter the code -
MAYFAIRSILK
- at checkout
.
You will also receive two additional samples.
This limited time offer can be redeemed once per person and not used in conjunction with any other offer.
Minimum spend of £65 on the Sisley Paris website using the Mayfairsilk code at checkout.
Add an additional touch of radiance this season. Glow on ...