Collection:

Silk Bed Sheets
Isn't it time you treated yourself to the ultimate sleep experience?
With Mayfairsilk, you'll wonder how you ever slept without it.
Deep, high quality sleep, is the cornerstone to good health and high performance during waking hours.
As your body repairs, rejuvenates and recharges during this crucial time, your choice of bedding plays a critical role.

Mulberry Silk Sheets | 22 Momme
Silk is a premium class natural fibre with a host of benefits for sleeping which is why Mayfairsilk has selected this textile for all our bedding. It's an incredbily smooth, soft, hypoallergenic, breathable fabic with temperature regulating properties and it drapes magnificently. These qualities make silk bed sheets the perfect companion for sleeping.
Researchers have proven silk to be anti-bacterial, anti-fungal, anti-mould and anti-dustmite which just adds a few more reasons for this textile being the ideal choice for bedding, particularly for people with sensitive skin and allergies.
Momme - what is it?
The industry standard measurement for density / thickness of silk is a unit called 'momme'. A higher momme value implies higher quality and a thicker more lustrous / luxurious fabric - with all other things kept equal including thread quality and finishing - as more silk has been used in the fabric.
Our silk experts at Mayfairsilk recommend choosing 22 momme or higher in your silk bed sheets and 25 momme in your pillowcases, as it's the best balance between performance and investment.
Silk Flat Sheets
We also offer a range of the best silk flat sheets.
Silk Fitted Sheets
Mayfairsilk offers a range of the best silk fitted sheets in a depth of 30cm and 35cm with strong elastic around the entire perimetre for a snug fit.
BENEFITS OF SLEEPING IN SILK SHEETS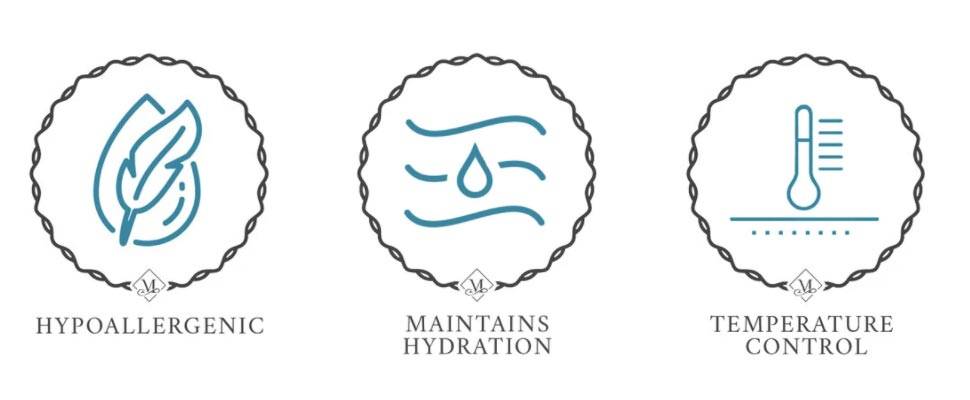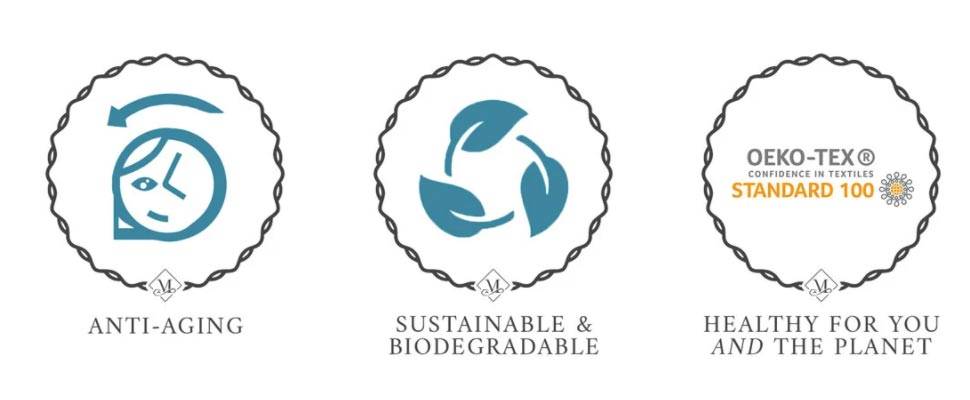 "Your performance during waking hours is largely dictated by the quality of your sleep the night before."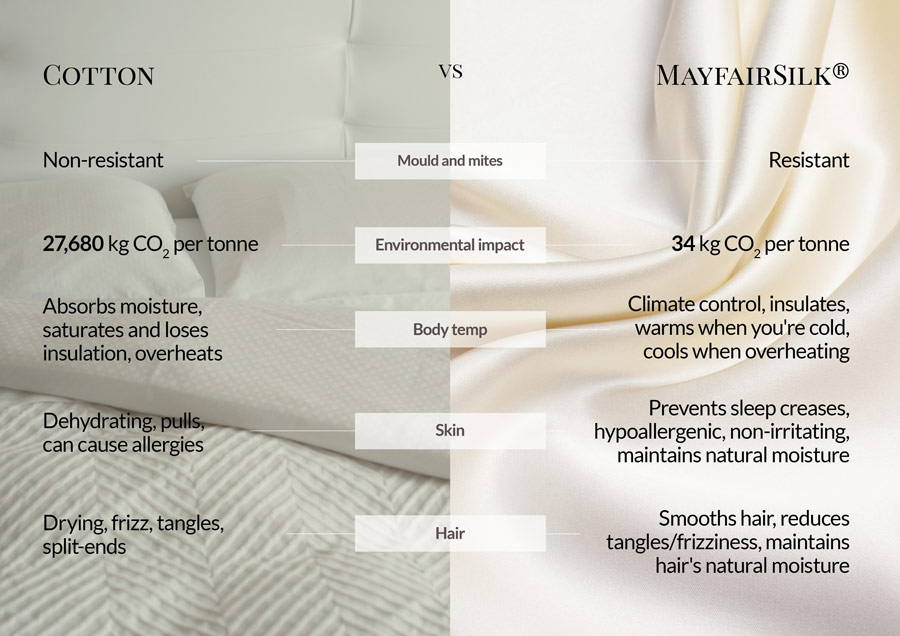 Why silk bedding is the right choice

Incorporating silk bed linen in your daily sleep routine can have a myriad of benefits one at first couldn't imagine.
Silk bed linen feels sublime against the skin, immediately calming your senses after a long day, calibrating your body temperature throughout the night and helping you acheive a deep cosy sleep.


EASY CARE
Apart from the cosmetic benefits, silk bed linen is easy to care for when following a couple of simple care tips to ensure it lasts for many years.
Our silk bedding can be machine washed on a gentle cycle, using a delicate detergent designed for silk and air dried (no tumble drying). Following these caring tips will help prolong the life of your cosy silk sheets.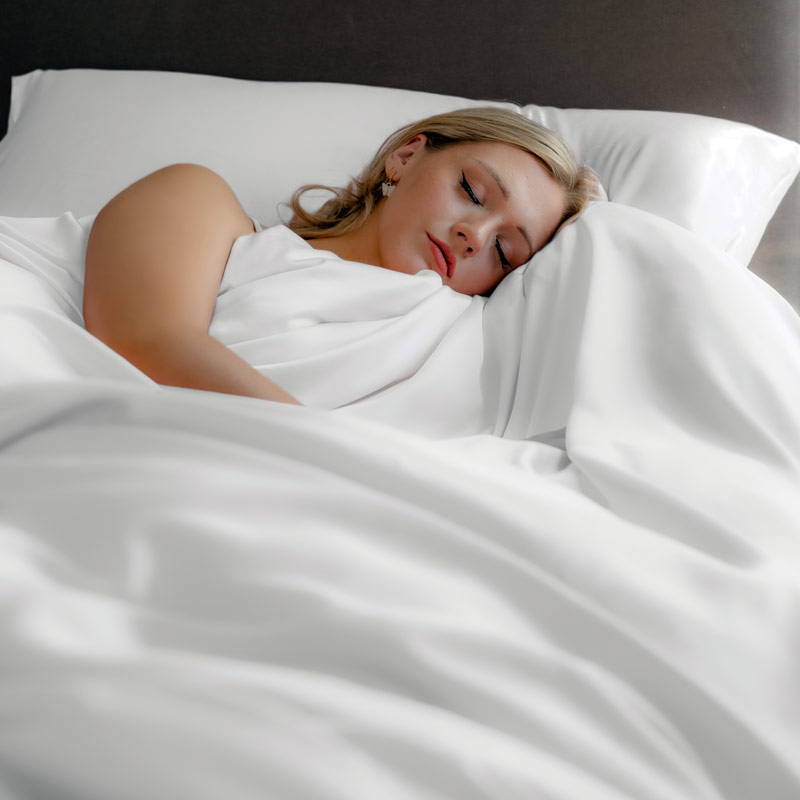 GOOD FOR SKIN
Silk is a worthy addition to your skincare routine as it helps your skin retain hydration and improves glow. Our silk bedding can make a huge difference to the overall appearance and complexion of your skin. It won't leave crease marks, which can help prevent wrinkles and is soothing and gentle on your skin.

In addition to this, silk sheets, unlike cotton, does not strip your skin of natural oils and hydration, allowing your skin to heal and rejuvenate throughout the night without the added burden of hydration. This facilitates you to reap the maximum benefits sleep and your skin products will perform better too, reducing dry skin. It's also naturally hypoallergenic so it's kind to sensitive skin conditions including eczema and psoriasis.



THE PERFECT FABRIC FOR HEALTHY HAIR
Silk doesn't create static electricity (unlike cheap imitation satin), and it's smooth surface allows hair to glide across throughout the night without drying, creating frizz or a matted mess. You'll notice the difference in the lustre of your hair and it will be much more manageable in the morning.
WHY BUY MAYFAIRSILK BED LINEN?
Our silk bedding is the most luxurious bedding you have slept on. It's like floating on a cloud of sheer comfort and available in a range of sizes to suit most beds - single, double, king, super king and emperor.
Silk wicks away excess moisture from the body whilst regulating body temperature to help prevent hot flushes throughout the night while you sleep. These properties make it perfect throughout the year in both summer and winter alike.
Our manufacturing has very low chemical processing and certified Standard 100 by OekoTex to be free-from harmful chemicals and dyes to keep you and your loved ones safe from allergies and health hazards.
Whilst sleeping on Mayfairsilk might seem like an indulgence at first, upon further inquiry its superior qualities become self-evident as the best choice for deep sleep and sheer comfort.
If you have any queries before ordering the finest silk bed linen, you can reach us any time. We would love to hear from you.
Once you place your order, sit back and relax while our team prepare and dispatch by tracked courier direct to your doorstep You will be in good company, Mayfairsilk has customers in over 29 countries (at the time of writing this) including the UK, USA, Canada, Australia, Hong Kong, India, UAE, Qatar, Spain, France, Germany, Switzerland, Italy, Norway, Sweden, Ireland and Lithuania to name just a few.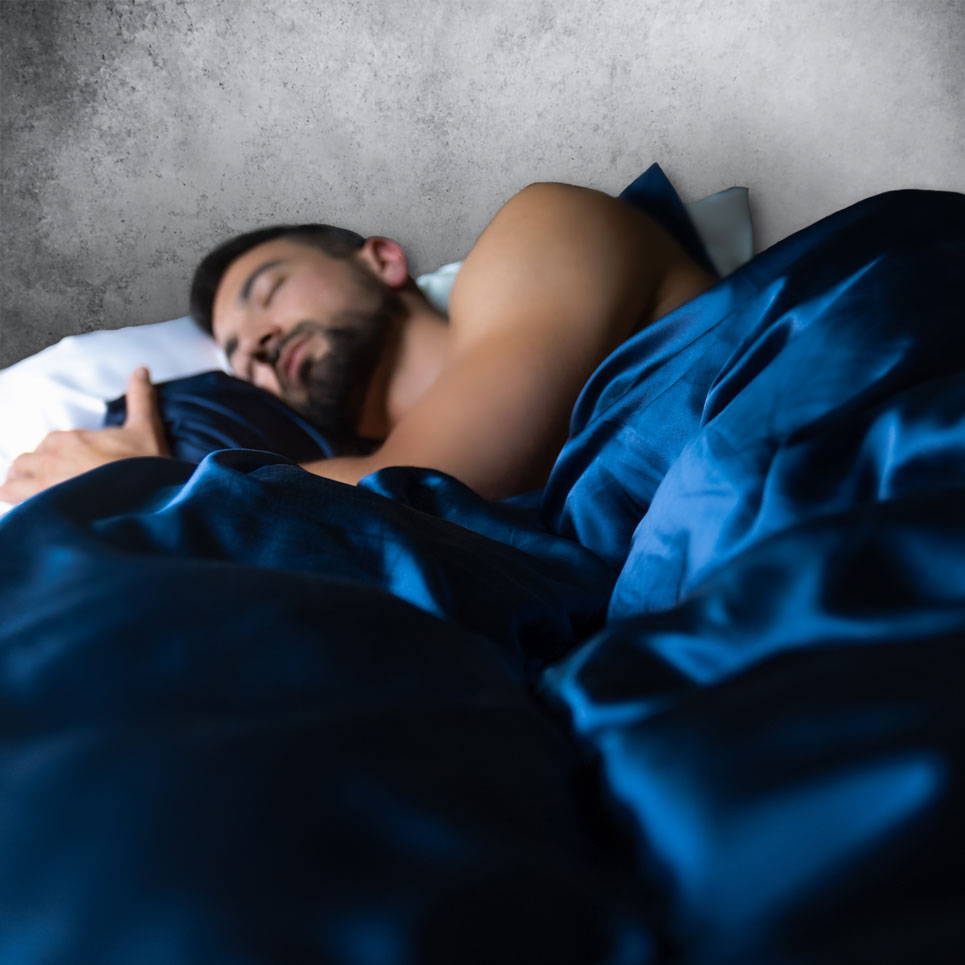 Frequestly asked questions (FAQs)
What are the benefits of sleeping in silk bedding?
Beyond the tactile benefits of sleeping in a cloud of pure luxury, there are several health and beauty benefits for your sleep, hair and skin when you sleep on the highest quality silk. Silk bedding is naturally hypoallergenic, body temperature regulating, hydrates skin and hair as well as promoting deeper sleep and relaxation.
See more details on the benefits of sleeping in silk.
How do I wash and care for silk sheets?
Our silk is the highest quality silk available, in a high momme rating so it is machine-washable and easy to care for when you follow a few simple care instructions.
1) Wash silk separately using a delicate detergent designed for silk/wool.
2) Our silk bed sheets can be machine-washed on a delicate cycle or hand-washed.
3) Do not tumble dry. For drying, simply place between two clean cotton towels and press gently. The towels will absorb 80% of the water from the silk.
4) Hang dry inside or outside, on a clean and smooth clothes hanger, out of direct sunlight. Do not hang over doors etc as the top of doors is rough and this can create pilling of the fabric.
5) This step is not mandatory, as the silk will naturally relax in creases over time with body temperature. If you wish to iron, do so inside out on the lowest heat, whilst the silk is still slightly damp. Alternatively you can use a steamer with the silk attachment so it the metal doesn't come in contact with the silk.