Mayfairsilk - tradition meets modern design and weaving technology
Sleep upgraded, simple.

Collection:

Silk Duvet Sets
You deserve the best, lose yourself in these sumptuous duvet sets, a visual feast for the eyes and a tactile indulgence for your skin.
Carefully handcrafted from the finest Mulberry Silk with our bespoke weave and matte finish.
Duvet set contains: two silk pillowcases, a deep fitted silk sheet and a silk duvet cover.
Pillowcases = 25 momme silk | Duvet cover & sheets = 22 momme silk.
Showing 22 of 22 products
Pure Mulberry Silk Duvet Sets
A Mayfairsilk Duvet Set is the pinnacle of luxury, comfort and elegance for your bedroom. You will feel instantly at ease when it touches your skin, melting into its soft embrace. Silk doesn't irritate your skin like cotton can and it will carry you into a deep, restful night's sleep.
It might be a surprise, but silk helps regulate your sleeping temperature, so you're kept in the optimum 'goldilocks' sleep zone. This leads to a night of deeper, uninterrupted sleep, so you perform better during waking hours. The smooth, natural properties of silk, means it doesn't dehydrate your skin and hair as cotton does, so you wake up refreshed, rejuvenated and with improved hair lustre and brighter skin complexion. It's hypoallergenic, dust-mite, mould and mildew resistant too, so it's an excellent choice for those with sensitive skin.
These silk duvet sets are flawlessly crafted using the finest grade 6A Mulberry Silk in our bespoke weave and finish. Our colour palette is calming and complementary and the fabric exhibits a refined matt finish, with pearlescent highlights and an incredibly smooth, supple hand feel.
BENEFITS OF SLEEPING IN SILK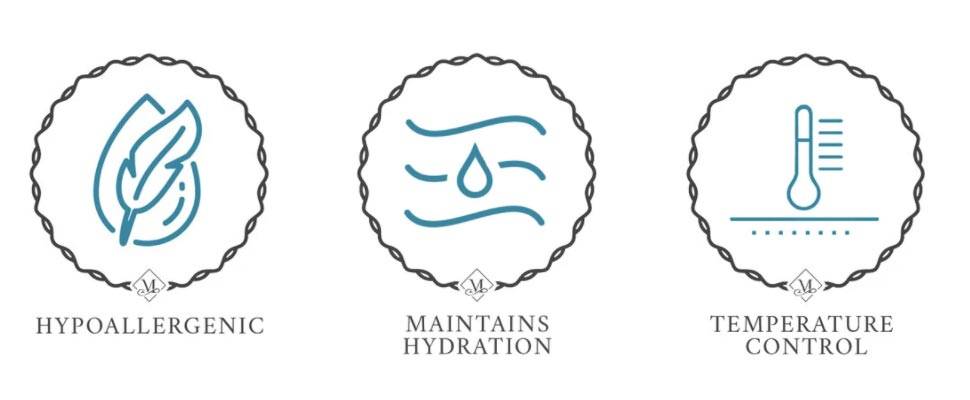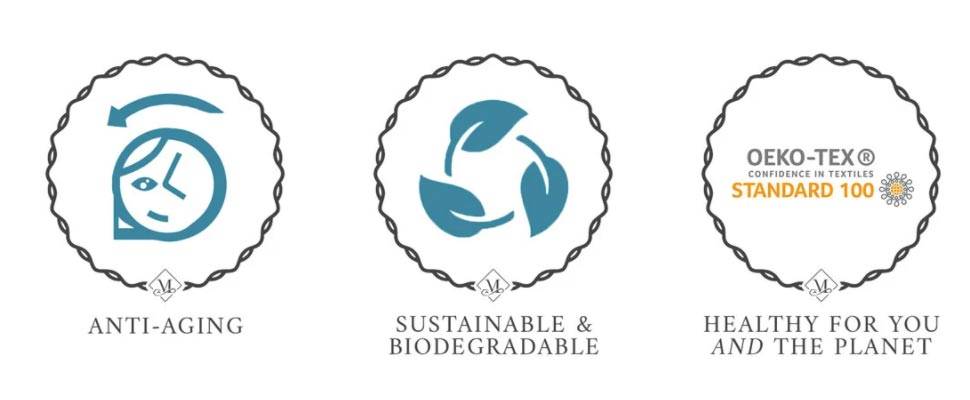 What makes a S

ilk Duvet Set

so desirable?
It's one of those things in life that one has to experience to appreciate. It has a buttery smooth, blissfully comfortable handfeel that puts you at ease from the moment of touch. It's a luxury that can be enjoyed for 8 hours every day, 2700 hours over the next year or 27,000 hours over the next decade. If there is any doubt of its beauty, we recommend starting with one of our silk pillowcases and feel the difference. Then imagine the feeling of getting into bed with your sheets crafted from this exquisite fabric. Wrapped in a cloud of comfort and luxury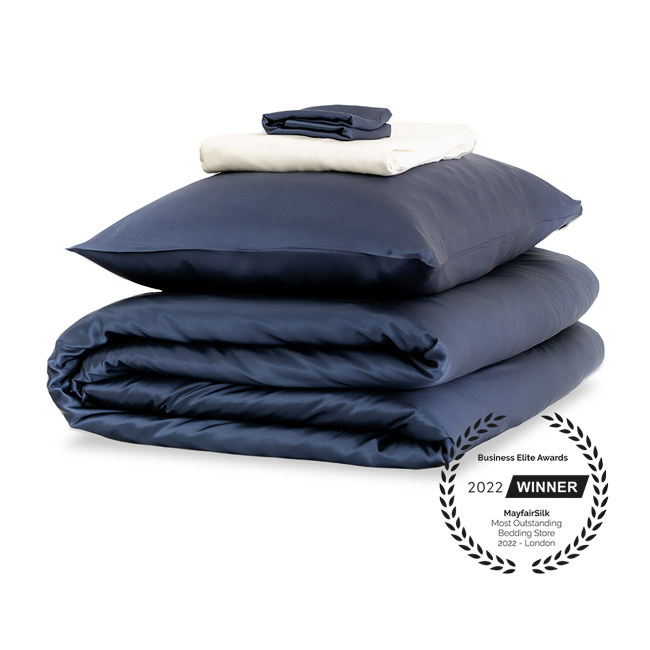 KEEPS YOUR SKIN MOISTURISED
Switching from any ordinary fabric to a silk duvet set is a smart beauty move, beyond everyday luxury.
Cotton absorbs 27x its weight in water, which dehydrates your skin and hair during the time your cells need much-needed rest and rejuvenation - your sleep. Silk on the other hand maintains the natural moisture levels of your skin and hair while you sleep. The smooth surface also allows your skin and hair to glide across it, reducing bed hair, frizziness and facial sleep creases.

NON-IRRITATING PROPERTIES MAKE IT GOOD FOR YOUR SKIN
Silk is smooth, soft and comfortable to the touch. Our silk duvet sets are non-irritating, even to the most sensitive skin, including eczema, psoriasis and acne. This is why dermatologists and skin experts recommend sleeping in Mayfairsilk. No other fabric compares to genuine, high-quality, high-momme, real silk

CRAFTED FROM 100% NATURAL SILK
The silk duvet sets are crafted from 100% pure, high-quality Mulberry Silk, a natural fibre and the strongest, must lustrous and highly coveted type of silk.

Like all our products, these silk duvet sets are independently certified Standard 100 by Oeko-Tex to be free-from all nasty chemicals and dyes.
All our silk duvet sets are machine-washable in tepid water on a delicate cycle using detergent designed for silk/wool. It also stays fresh longer than cotton, so it requires less frequent washing. Read our care instructions.


HIGH PERFORMANCE IN DAYLIGHT HOURS
Studies have shown that high-quality sleep leads to higher performance and improved health during waking hours. The better you sleep, the better you perform.
There simply isn't a more luxurious, comfortable, ideal fabric to sleep in than Mayfairsilk.
Discover for yourself why silk has been referred to as the "Queen of textiles" since the 27th century BC.


"Pleasure in the simplest of moments"