Damask is a reverse pattern fabric of silk, linen, cotton, crepe backed satin and other materials with a unique pattern formed by weaving. A print that originated in Damascus and became popular in Europe in the Middle Ages. A modern twist to the Damask weave is the Damask print on a fabric.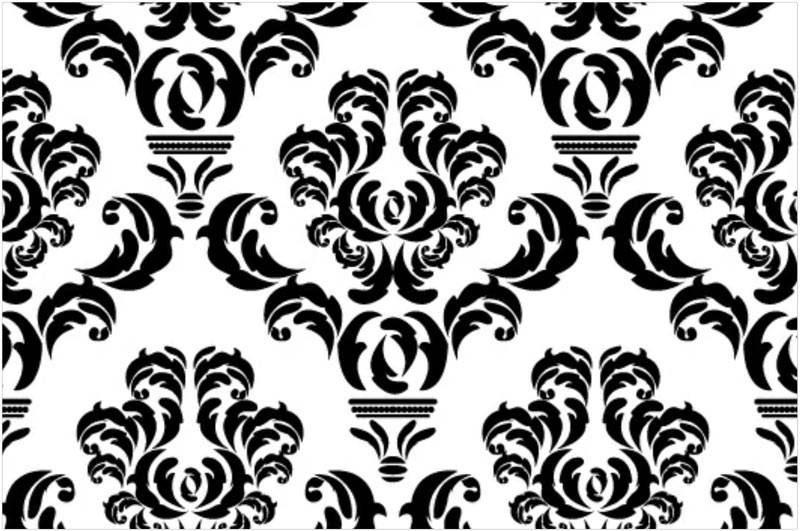 Silk Pillowcases in a Damask Print
A new inclusion to our silk pillow case collection is this soft grey print in a watercolour style on Ivory background. It adds a touch of elegance to any bedroom.
This new design silk pillowcase is crafted from the highest Grade 6A 100% pure Mulberry Silk and is so versatile, it complements both classic and contemporary decor and an array of colour palettes.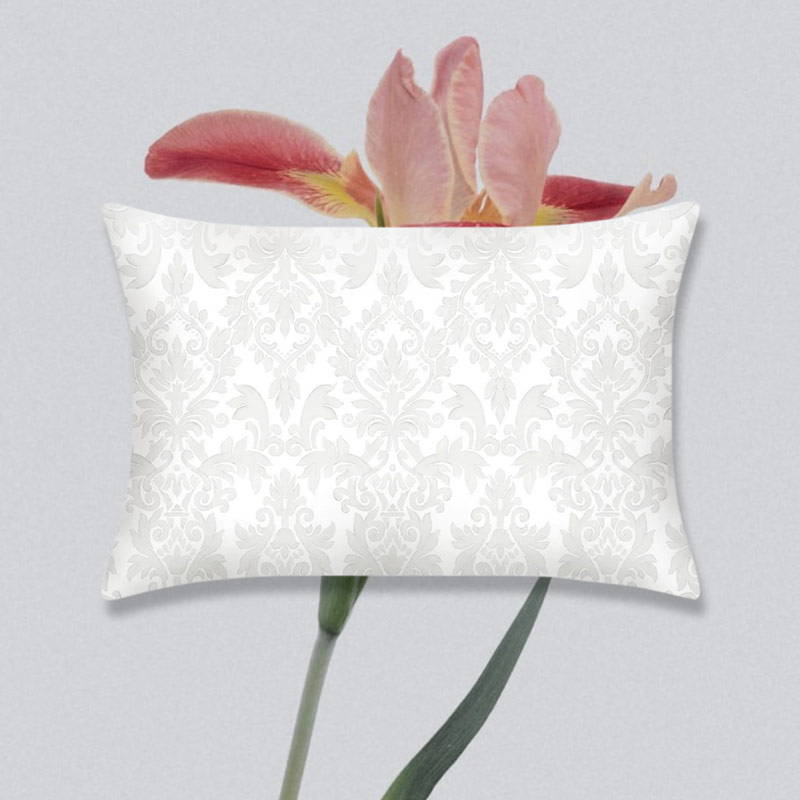 Damask Silk Pillowcase Styles
Available in two sizes, UK Standard / US Queen (50x 75cm) and UK Super King / US King (50x90cm) the Damask print comes in three styles: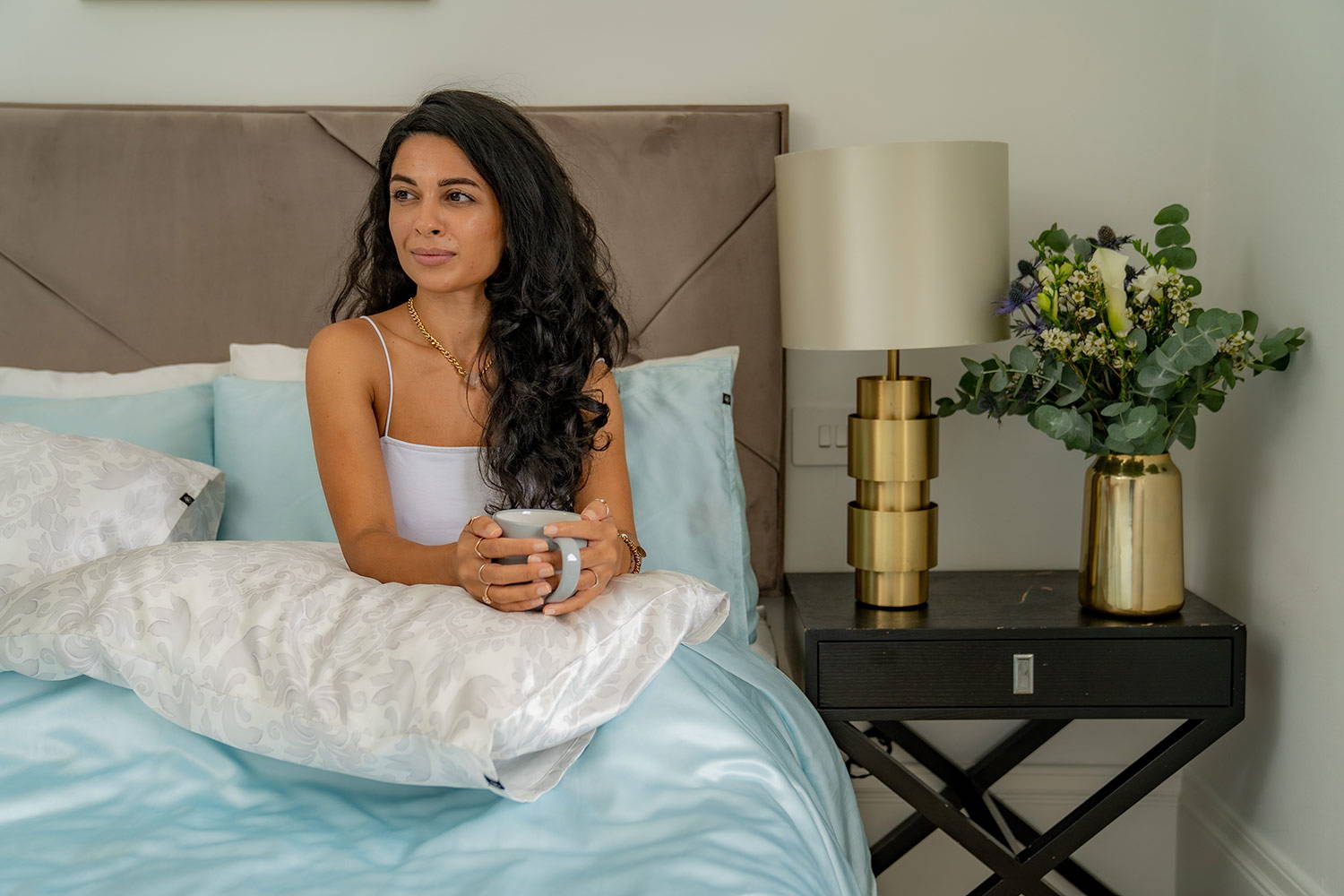 1) Damask Print - Classic Envelope Style
Beautiful Damask print on a standard and super king silk pillowcase with a classic envelope opening. A generous return envelope measuring 15cm ensures your pillow is kept in place all night long.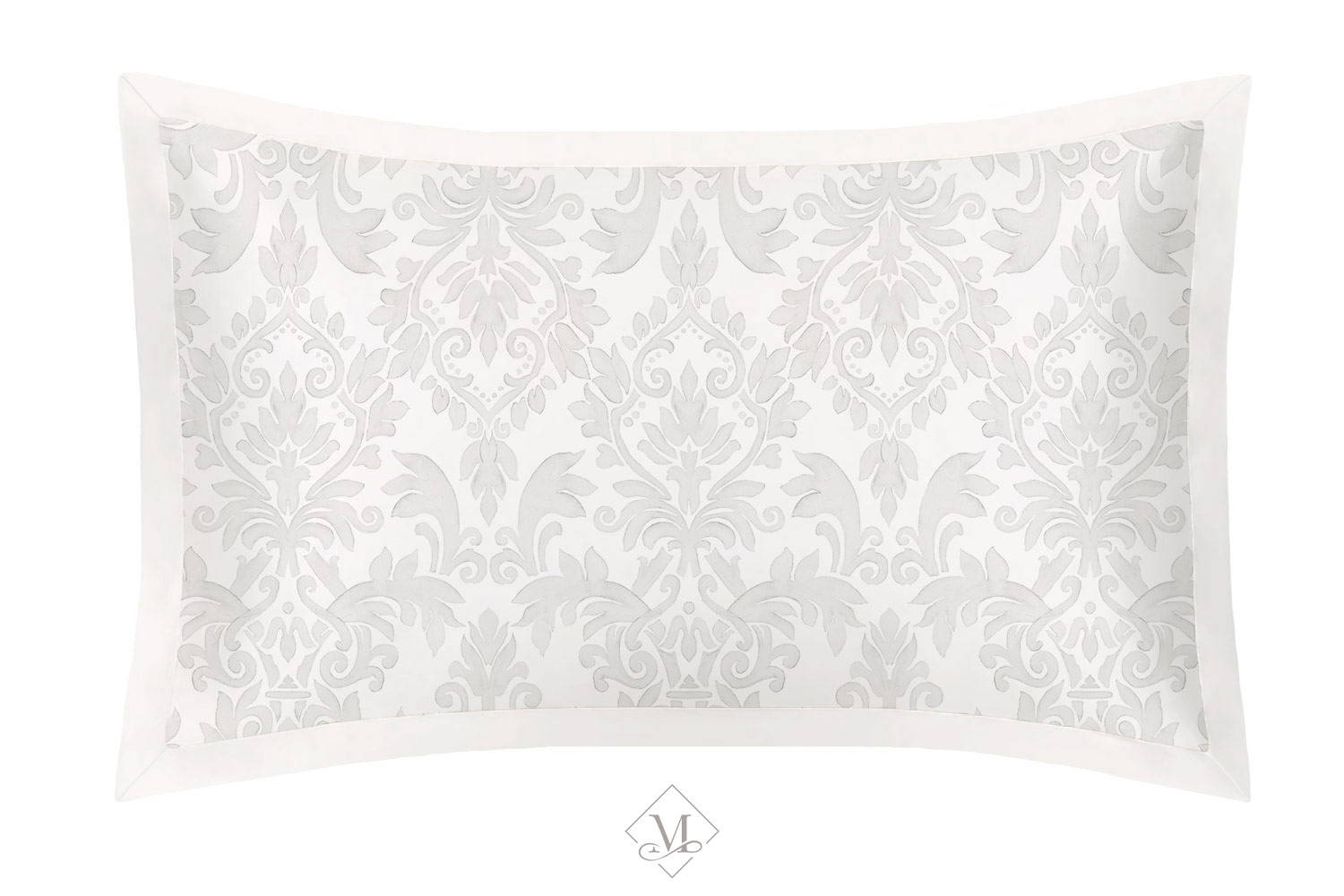 2) Damask Print & Ivory Border - Luxe Oxford Style
This Damask print silk pillow case in an Oxford style is finished with an elegant ivory border (pearly off-white) crafted from undyed pure Mulberry Silk, its natural colour. This is a beautiful pillowcase that will elevate the aesthetic of your bedroom.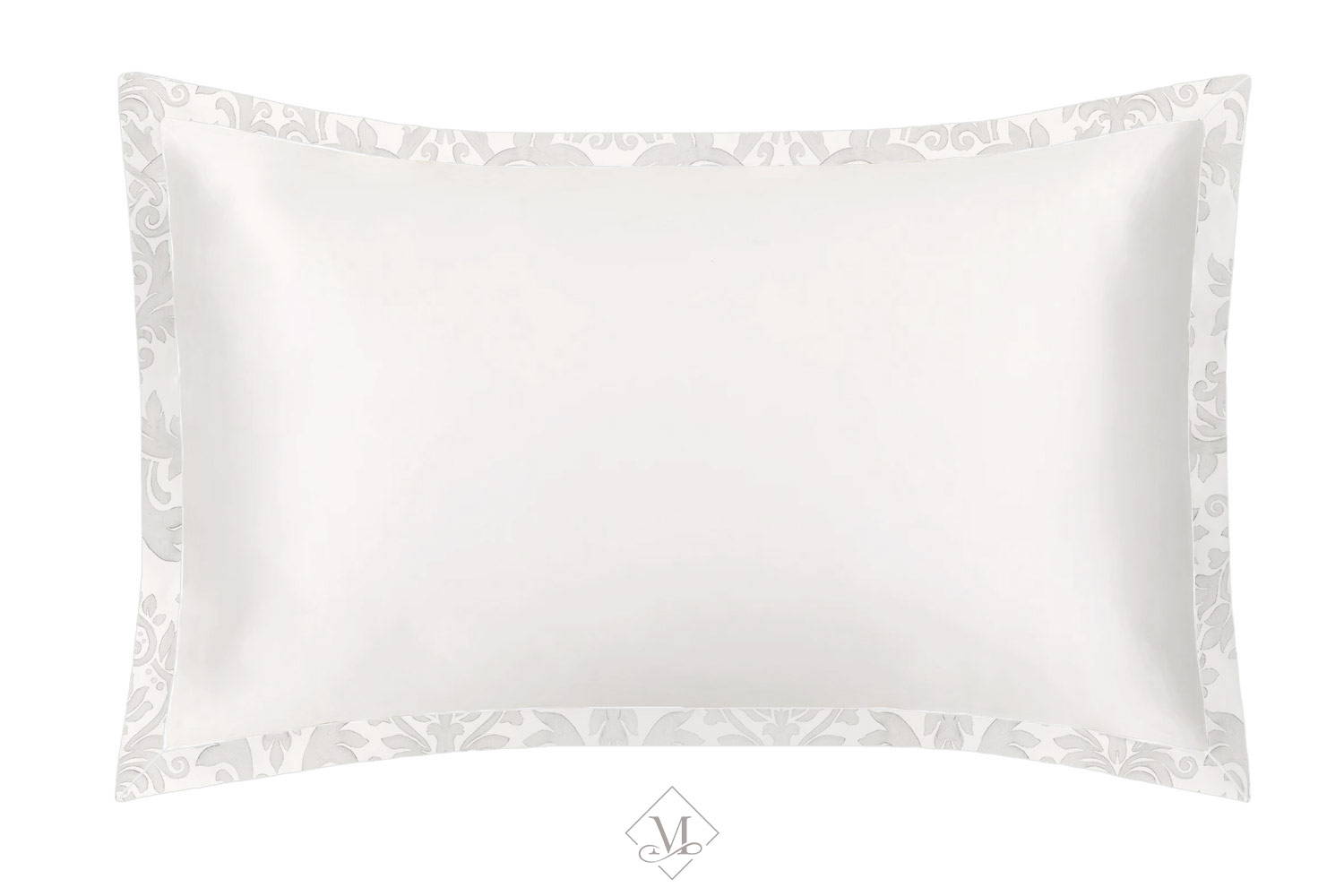 3) Ivory & Damask Printed Border - Luxe Oxford Style
This Oxford Silk Pillowcase in Ivory is lightly embellished with a Damask print border for a refined look. It compliments the Damask & Ivory border pillowcase for a stunning pillow arrangement on your bed with just 4 pillows.
Extend this look with some Ivory Boudoir cushions (30x50cm) and/or the Ivory & Damask Euro Sham (65x65cm).
What we love about this print ...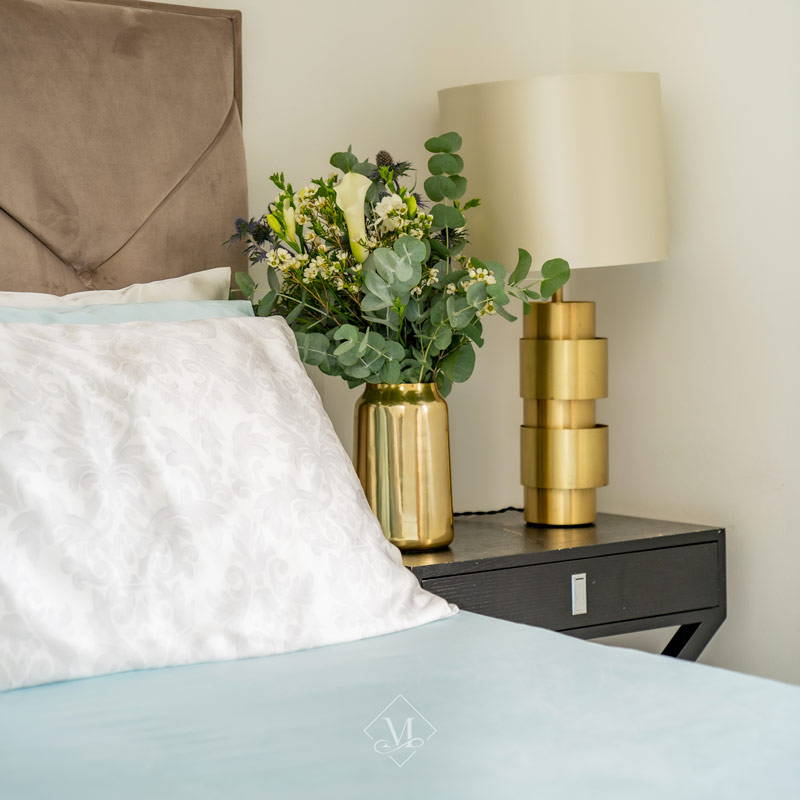 All three styles complement each other so well for a matching set. Handcrafted from pure 25 Momme Mulberry Silk with our signature matte finish, these Damask Pillowcases are a stunning addition for your bedroom.
The natural soft tones of this collection pairs with a wide colour palette, particularly our solid colour bedding such as Midnight Blue, Charcoal, Precious Pink, Ivory, Oyster Grey, Teal Breeze and Pastel Blue (as shown in the photo).
2) Men love the design too
This new style has been well received by both men and women alike.
Striking yet subtle, this unique silk pillow case makes a great gift for that special someone that appreciates fine art and design.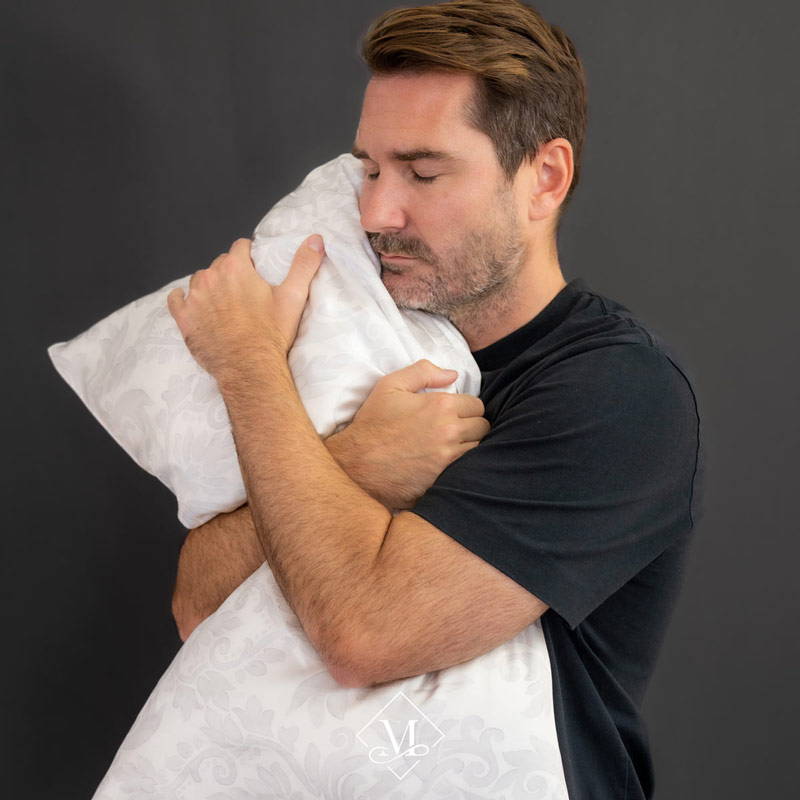 A modern watercolour interpretation of the traditional art form originating in Damascus (a part of Syria), this design brings a moment of calm to our everyday busy lives.
When coupled with the tactile and beauty benefits of sleeping in silk, what is not to love?
4) Perks of sleeping on a Silk Pillowcase
Besides the tactile pleasure of sleeping on a silk pillowcase and bedding, there are many desirable benefits for our skin, hair, mind and body.
In a nutshell, sleeping on silk regularly helps reduce wrinkles due to less friction against your skin and by preserving the natural moisture of your skin. It is no wonder that there are thousands of reviews from people who find a noticeable improvement in their skin and they wake up fresh each morning after a nights rest on silk.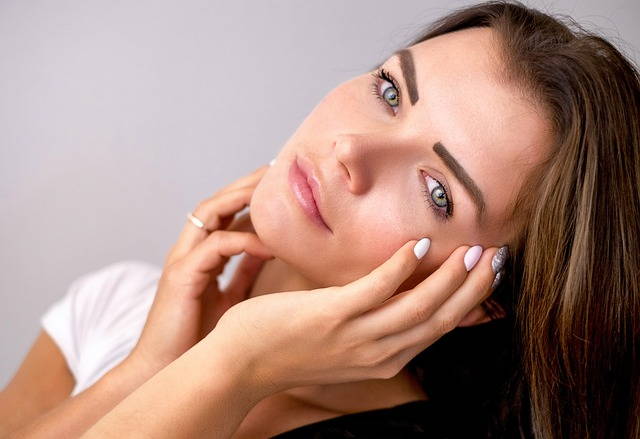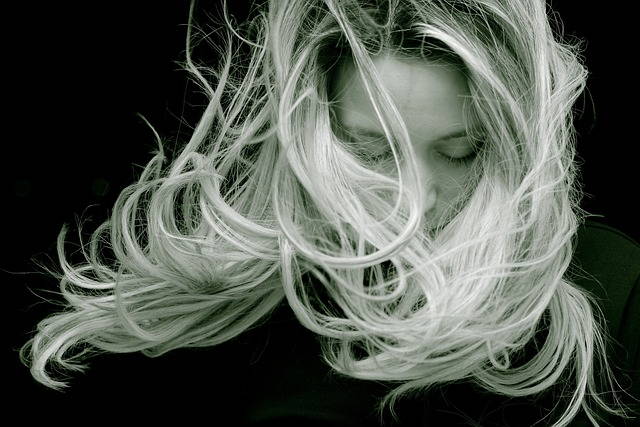 Less friction and being able to retain your hair's natural moisture means that that your hair is soft and smoother. It reduces frizzy hair and tangles keeping your mane more manageable.
It is also a much cleaner sleep surface at night, as silk being hypoallergenic is not a breeding ground for bacteria and dust mites which are the leading cause of household allergies.
5) Added comfort with a Silk Bedding Set
No fabric comes as close to you, and for as long, as your bed sheets and pillowcases.
You spend 6-9 hours each night on them. 1/3 of your life.
If you think about it, that will be 2900+ hours in the next 12 months alone.
If you're someone where comfort is key and you have the means to treat yourself to the best, why not indulge in silk top to toe? Our silk duvet sets offer the best value to get started, rather than purchasing individual bedding items.
You could add some items from this Damask range to the Ivory, Charcoal, Pastel Blue, Precious Pink and Midnight Blue bed sets.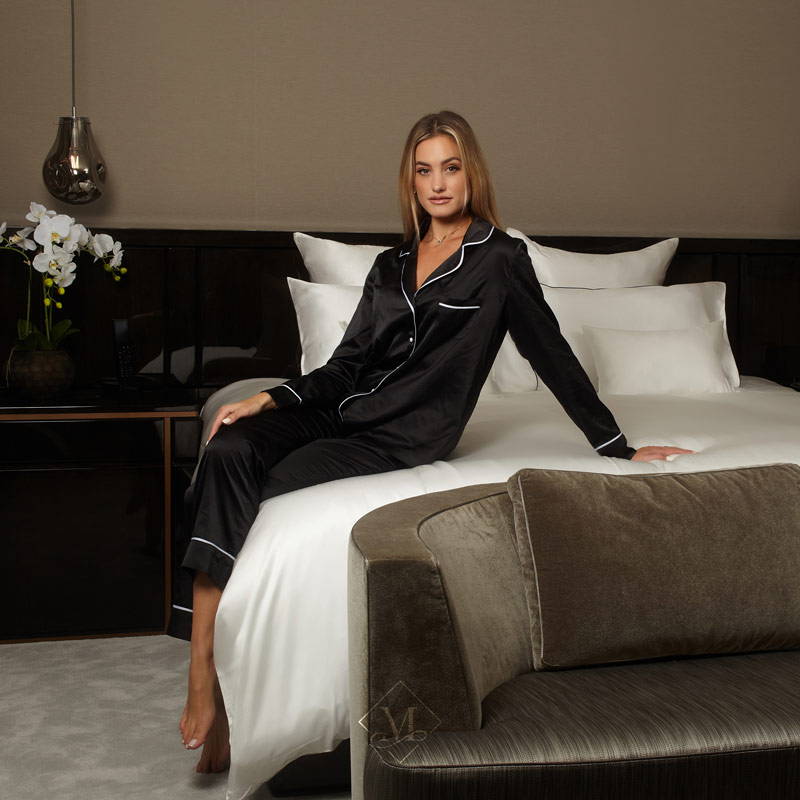 How to care for your precious silk?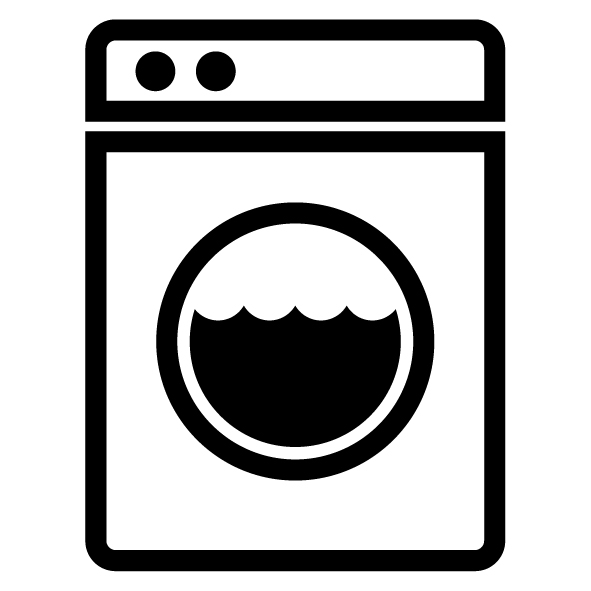 Good news, you have choices. You can machine-wash mayfairsilk on a delicate cycle, hand wash or dry clean.
Do not soak the fabric for too long and always use a small amount of detergent specifically designed for silk or wool. This is very important. Using silk detergent ensures your silk fibres last long and aren't damaged by conventional detergents as these are designed for cellulose fibres, not protein fibres.
After washing, place on clean dry cotton towels, fold the towels over and press gently. The excess water will transfer out of the silk into the cotton towels. Do not wring or tumble dry, as silk doesn't like high heat and whilst wet, it loses 30% of its tensile strength, this is when it's most vulnerable to damage. Also, keep the bleaches away and don't rub vigorously.
Not all silk is made alike. There are different grades and types of silk. Grade 6A Mulberry silk is the best quality and 22-25 momme is the optimum weight of silk for bedding (although for fashion items a lower grade works).
When it comes to silk bedding, like most things, the price is often an indication of quality, so before you purchase in store or shop online, always check the grade, type and momme of the silk item you are looking at. Do you trust the seller, are they reputable, what are their reviews online like? If the price is too good to be true, it's most certainly imitation and you should stay away. Our silk is Certified Standard 100 by OekoTex and we have numerous testing reports from top textile labs such as SGS for our quality, colour fastness, durability, pilling resistance and many more parameters. All our silk items are crafted from Grade 6A Mulberry silk with expert stitching, finishing and packaged beautifully in luxury gift boxes.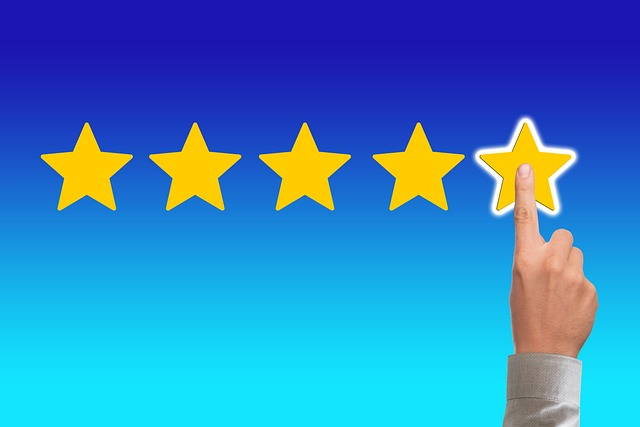 It is increasingly important to review the environmental impact of the fabric. Our silk is sustainably produced, renewable and does not pollute waterways with micro-plastics like polyester.
Silk production emits 27,000 times less carbon per tonne of fabric than cotton. It is also biodegradable in household compost at the end of its life, saving landfill. Beautiful design coupled with the tactile pleasure of sleeping on silk which includes health and beauty benefits , there is little surprise as to why our silk pillowcases are so popular.
A multi-award-winning British business that is inspired by timeless style, elegance and attention to detail, Mayfairsilk is known for its industry-leading pure Mulberry silk bedding that is handcrafted in high momme silk, deliciously soft with a refined matte finish.
The new sustainably produced, Damask print silk pillowcase in a soft grey watercolour style on Ivory background, adds a touch of elegance to your bedroom. Designed in London and printed using certified non-toxic dyes onto our 25 momme Grade 6A Mulberry Silk with a matte finish.
This all-natural breathable silk is thermoregulating and doesn't strip your hair and skin of its natural moisture and oils like cotton, so that you wake up refreshed and with tangle and frizz-free hair.
Mayfairsilk is on a mission to elevate your sleep with their silk bedding that is all-natural, thermo-regulating, hypoallergenic, super soft, sustainable and biodegradable (at end-of-life).
We've won over five industry awards with thousands of satisfied customer reviews. We plant a tree with every order and ship world-wide with customers in over 32 countries and counting. Orders are shipped and dispatched on the same day from our warehouse in the UK.
For news of our latest release, events and seasonal discount, feel free to join our newsletter.