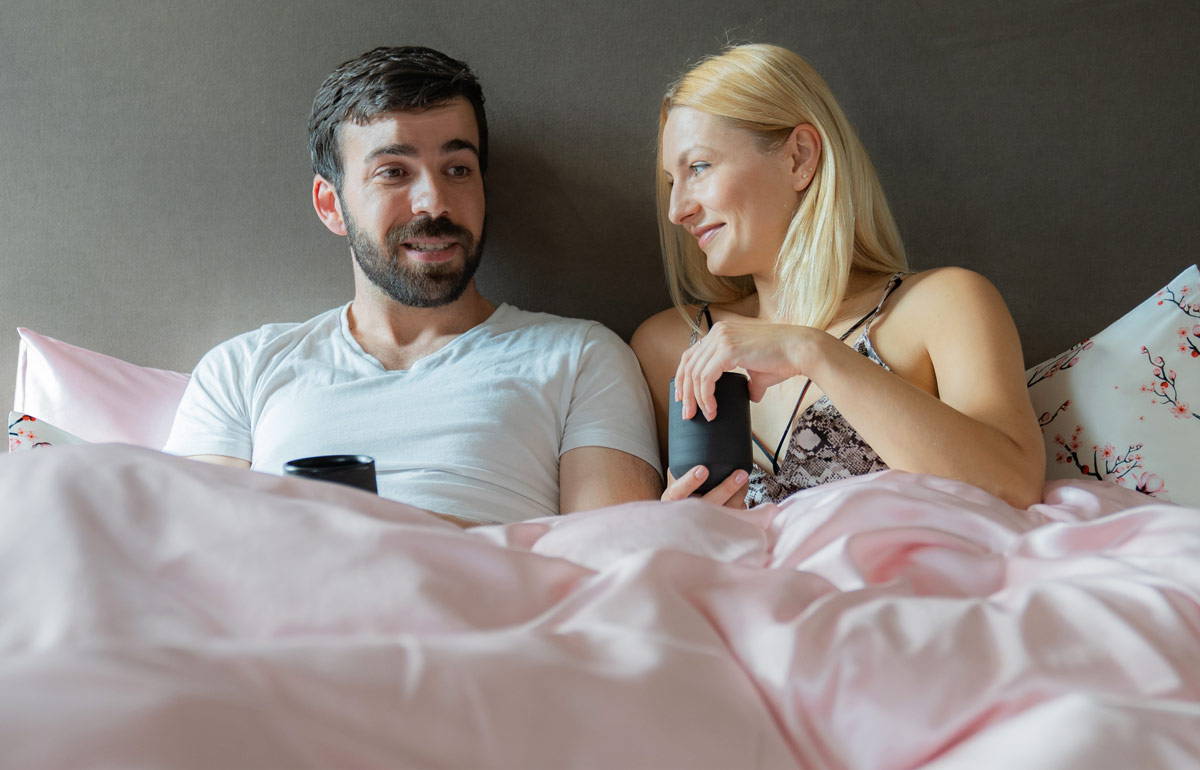 The colour pink is fresh and cheerful and it symbolises youth, playfulness and positivity - all things precious to us and so here at Mayfairsilk our pink silk bedding range is made from 100% Mulberry silk as 'precious pink'. This spring our pink silk bedding has been one of the most popular on our website. So if your search was to know more about the finest quality pink silk bedding, find out a few reasons why silk bedding is gaining such fast popularity.
By silk, we are referring to pure Mulberry silk of the finest grade. Typically the silk bedding set consists of silk pillowcases, silk fitted sheet and silk duvet cover (without add ons like the flat sheet or the cushions).
Let's go through the benefits of each:
Benefits of sleeping on a silk pillowcase
Resting on a silk pillowcases has many benefits which in a nutshell are explained below.
A. Why is a silk pillowcase good for hair?
Unlike cotton which is a fabric that loves to absorb all kinds of moisture including that of your hair, silk does not strip out the natural oil or moisture from your hair causing them to get rough, matted or dry. This can result in breakage.
A night spent on silk keeps your hair naturally hydrated and the high protein content in silk keeps it smooth and soft causing less friction for your tresses. It helps keep your hair more manageable by reducing the tangles, frizz and splits. Many find using silk pillowcases regularly extends the life of their blow dry which can in effect save them time and money.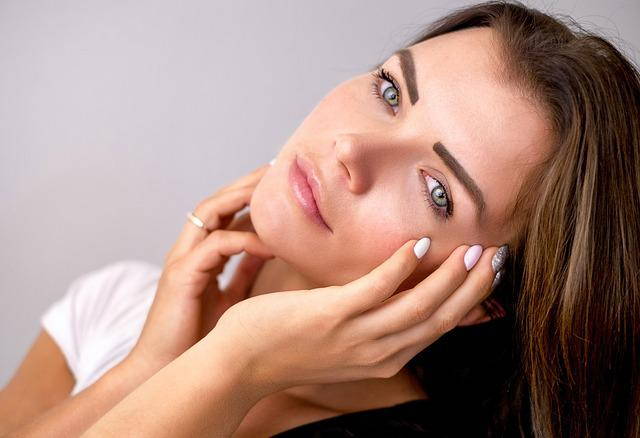 B. Why is a silk pillowcase good for skin?
Silk is a natural and breathable fabric and absorbs less moisture from your skin. Cotton on the other hand is hyper-absorbent and dehydrates the skin's natural moisture as you sleep on it each night, causing the acceleration of wrinkles and fine lines. Sleeping regularly on silk pillowcases helps your skin stay hydrated and look radiant and has been a beauty secret of many celebrities.
Skin specialists recommend acne sufferers to sleep on a silk pillowcase as it is naturally hypoallergenic. It is anti-bacterial, anti-mould and anti-mites. Dust mites cause itchiness and aggravate sensitive skin which is suffering from acne, psoriasis or eczema.
According to Claudia Fallah, a sensitive skin specialist from London with over 25 years of experience:
"I recommend sleeping on pure silk pillowcases after they have undergone their skin treatment as the smallest of mites and bacteria from their cotton pillowcases can affect and irritate their skin. Skin requires protection which pure silk can provide. Mayfairsilk is by far the best Mulberry silk pillowcase I've come across".
C. Are silk pillowcases more comfortable?

Resting your head on a silk pillowcase not only has that wonderful soft and smooth tactile feeling but also keeps you comfy. If you suffer from having to turn your pillow halfway through the night on the cooler side, you no longer will have to do that. Silk being naturally thermoregulating, it keeps you cool in the summer and warm in the winter.
When choosing a silk pillowcase, choose one with an envelope closure and in 25 momme thickness made from Mulberry silk.
Pretty in pink, our silk sheets are divine as you can roll in them and enjoy the blissful feeling from top to toe. We offer both fitted sheet and flat sheet in our silk bed bedding range.
We often receive questions where some suspect slipping when you sleep on silk sheets to be a concern. This is because very often because some people confuse natural silk with artificially made satin which is made from polyester (plastic). Pure silk is soft but not as slippery as satin. At Mayfairsilk we go an extra mile to address this concern and therefore we not only use the finest Grade 6A Mulberry silk, but our silk undergoes a process to give it a matte sheen so that they are soft but not slippery. The silk bedding is available in different sizes and colours to fit the king, super king and emperor size beds.
Besides the thermoregulating benefit of silk, silk is also naturally hypoallergenic and mite repellent. A popular choice for the summer, the pink silk sheets are ultra- breathable and keeps you cool.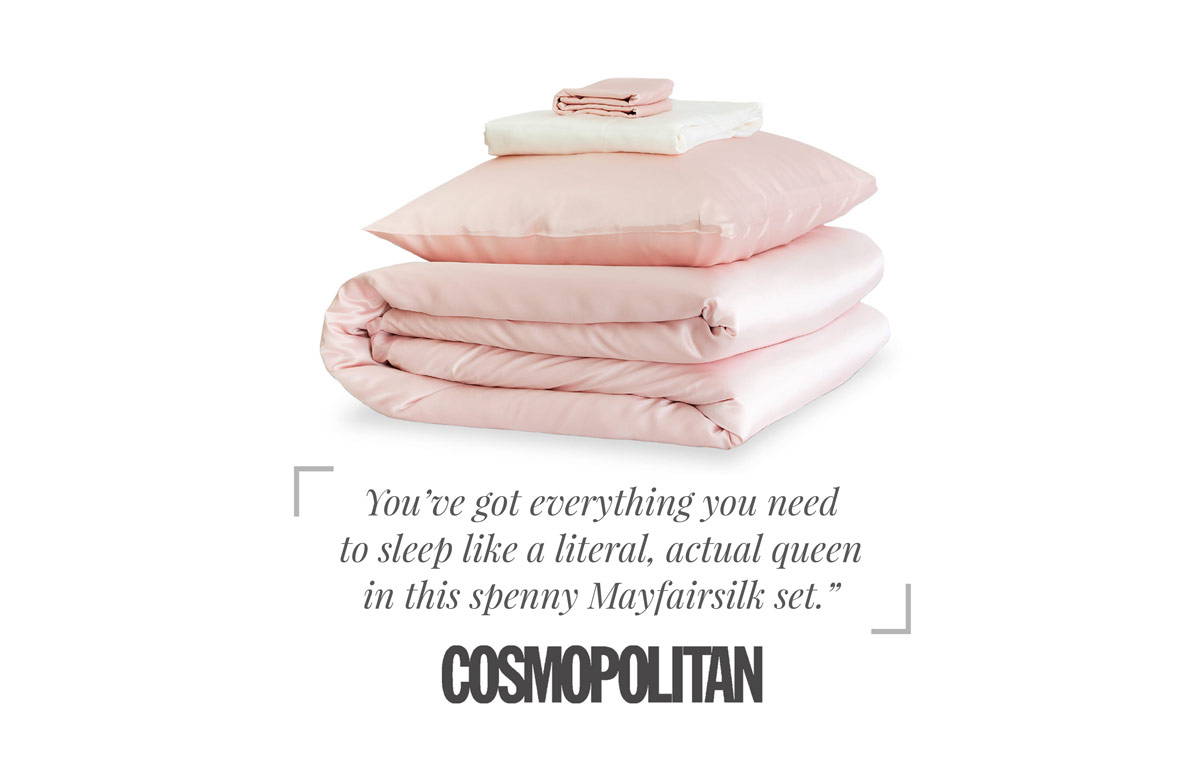 Sleeping in silk can very soon become an addiction and although many start with a silk pillowcase they very soon embark on a journey where they land up investing in a silk bedding set which includes the duvet cover. Available in 22 momme Mulberry silk is the single, double duvet cover, king duvet cover, super king and also in the emperor size. The duvet covers in silk are naturally hypoallergenic, temperature regulating and help you stay in bed longer.
"Love my silk king duvet cover. Wonderfully soft and luxurious. Mood uplifting and noticeable benefits when it comes to better sleep."
- Molly W.
Beauty sleep personified - a pink silk bedding set includes pink silk pillowcases, a duvet cover and a fitted sheet. If you like a top sheet, you can choose a pink flat sheet too.
Many like the 'all pink' look for their silk bedding. However, if you are in the mood for something bold and different in your bedroom we urge you to unleash your creativity.
Spruce up your bedroom, mix and match your silk bedding with other contrasting colours. Colours that go with pink silk bedding include brilliant white, ivory, silver / mushroom grey, charcoal and many of our printed pillowcases (Flamingos, Iridescent Garden and Cherry Blossom). Ivory or leopard boudoir cushions can be added to complete a pink bedding set.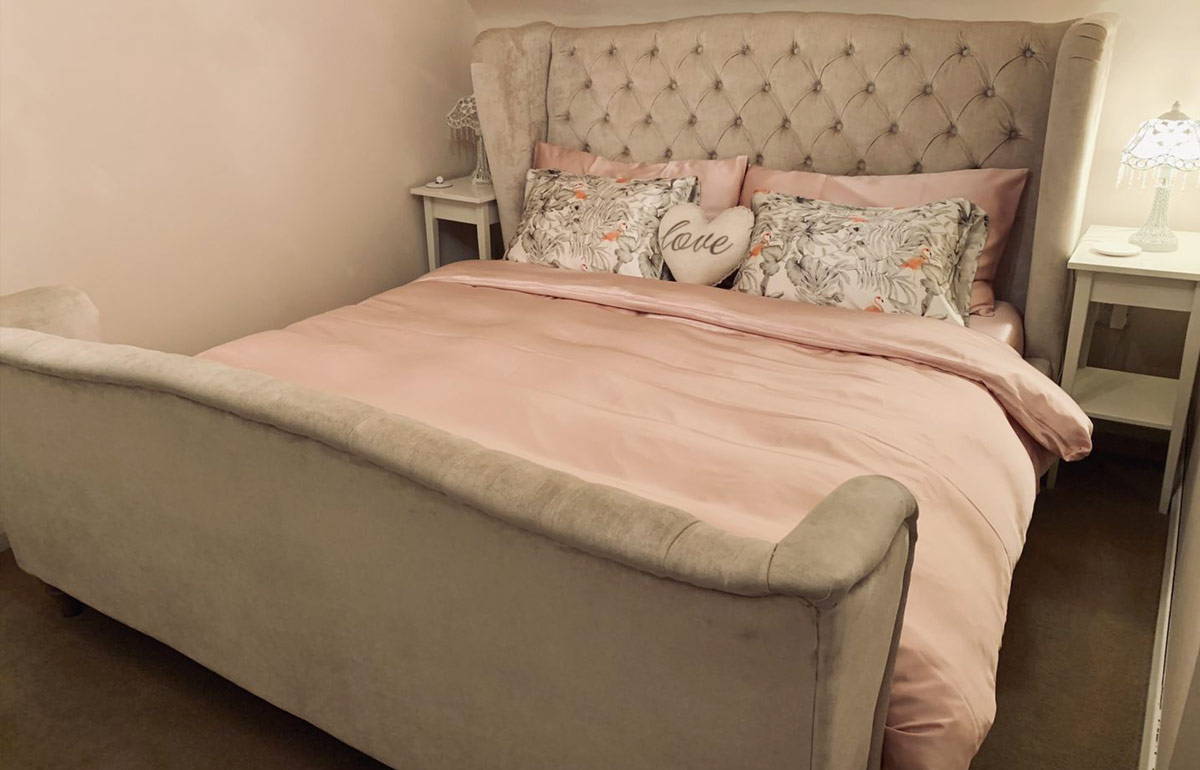 We have found customers are not hesitant to invest in silk bedding as they know the price reflects quality. After every purchase, customers have the opportunity to leave their review which is automatically published to our site and they share their first-hand experience of the benefits sleeping in silk bedding.
And contrary to what we first imagined, the pink silk bedding is something both women and men enjoy being cocooned in.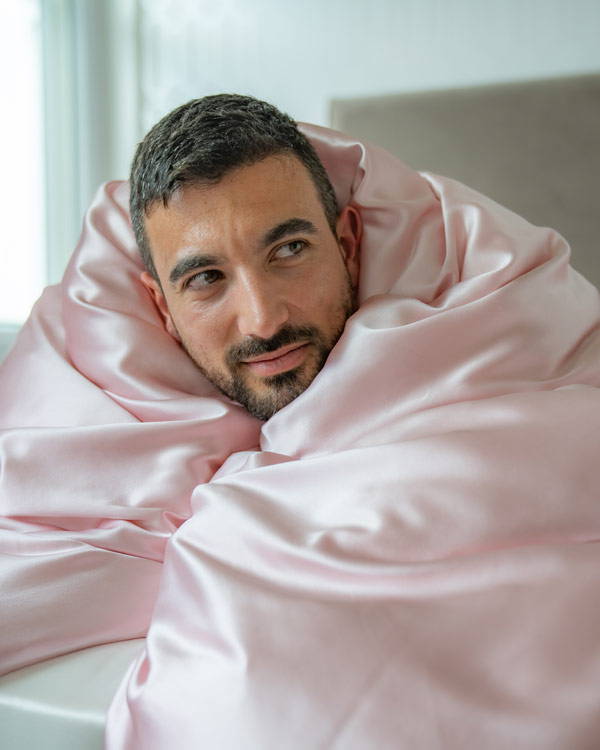 Silk is the most delicate when wet and 9/10 times silk gets damaged during washing. On the account of silk having high protein content, for the detergent to work correctly and for the silk to last long, special care is required to be taken whilst washing silk.
Silk bedding was traditionally hand washed but recent technology has added a few more options such as dry cleaning or machine washing at home. It is important for the long term durability of silk, when using the washing machine all silks are washed separately on a delicates setting with the protection of a delicates bag and using on 'non bio' detergents.
Further details on how to wash silk are on this page.
Mayfairsilk's multi-award winning Mulberry silk bed sheets, duvet covers and silk pillowcases are created for your comfort and are available in an array of colours of what can be argued as the best fabric that nature intended. We hope that this article has helped navigate your search of the best silk.
Shop for pure Mulberry silk and create a customer account on Mayfairsilk to receive 10% store credit after each purchase of over £100.
For the full pink silk bedding collection, check out this page.