The Opulent Embrace of Silk Duvet Covers: A Royal Slumber Awaits You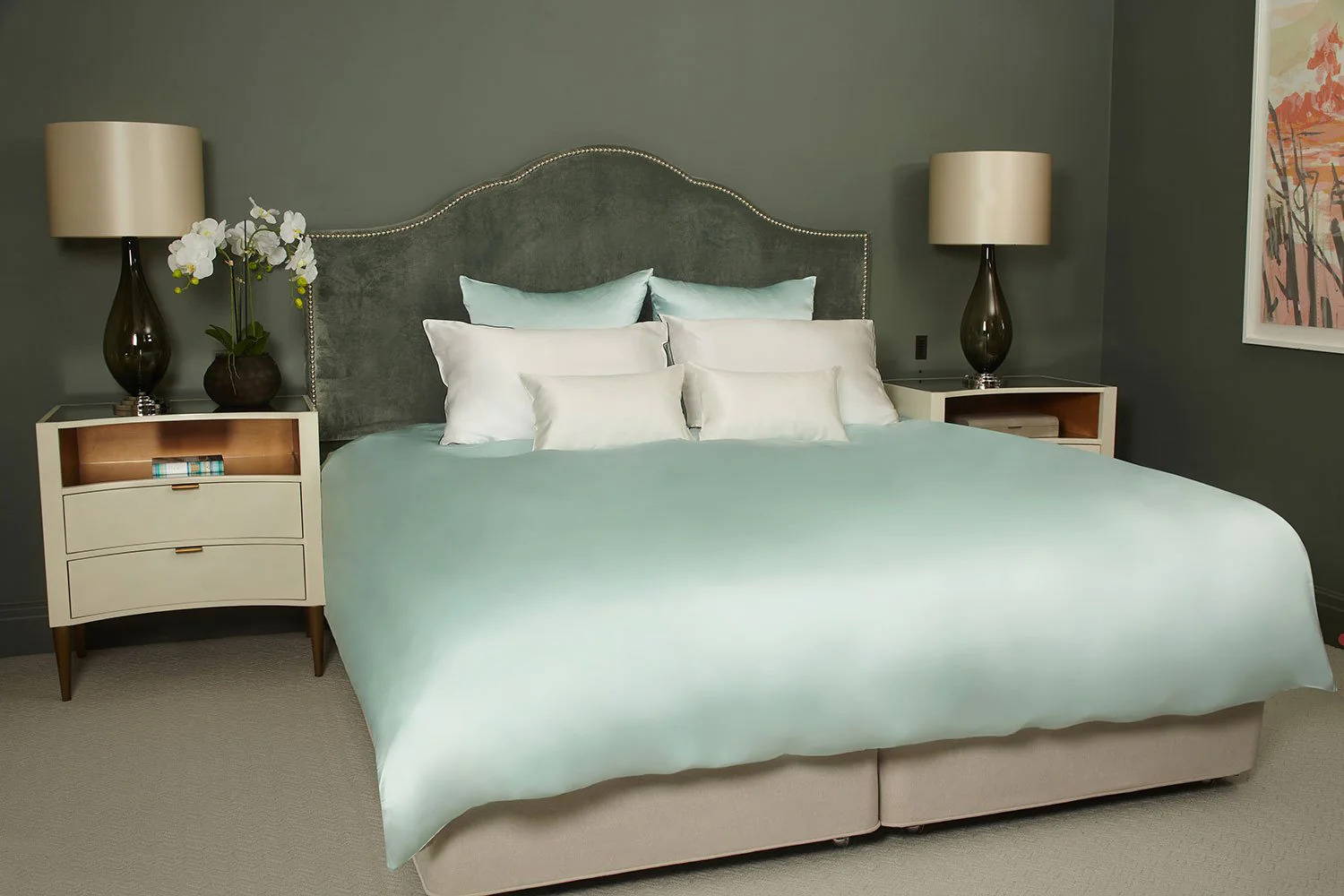 When it comes to bedding, the Elizabethans knew a thing or two about luxury. Queen Elizabeth I herself adored her silk sheets, and what was good enough for the Virgin Queen is undoubtedly good enough for us, dear reader. If you're seeking the epitome of indulgence in your boudoir, look no further than Mayfairsilk's award-winning, sumptuous 22 momme silk duvet covers.
One must ponder, why is silk such a coveted material for bedding?
After all, it is not just a mere matter of opulence, but rather an investment in one's nightly repose. Permit me to elucidate the many benefits of sleeping swathed in silk, and how Mayfairsilk, in all its esteemed glory, offers the finest silk duvet covers for your regal slumber.
Firstly, let us address the unparalleled comfort of silk.
Its divine softness and smoothness caress the skin like a gentle whisper, promoting a sense of tranquility as you drift off to sleep. The naturally hypoallergenic properties of silk create a sanctuary for even the most sensitive of skin types, warding off any sort of irritation or discomfort that might impede your beauty sleep.
Moreover, silk is a material that knows how to treat your hair with the utmost respect. You see, the smooth surface of a silk duvet cover allows your delicate locks to glide effortlessly across the fabric, thus preventing any unwanted frizz, tangles, or breakage. Your crowning glory shall thank you for the tender care provided by these silk sheets.
It is also worth noting that silk possesses the incredible ability to regulate room temperature. This exquisite fabric maintains an ideal balance of warmth in winter and coolness in summer, ensuring you sleep in blissful comfort throughout the year. Furthermore, silk's natural moisture-wicking properties prevent any clamminess that could besmirch your nightly rest.
Pure Mulberry Silk Bedding
Now, you may be wondering, what sets Mayfairsilk's silk duvet covers apart from the rest?
The answer, lies in the impeccable quality. Mayfairsilk's 22 momme silk, crafted from 100% pure mulberry silk, boasts a richness, a matte finish and durability that is unparalleled. The duvet cover, for instance, offers a luxurious sleeping experience fit for royalty.
An award-winning brand, Mayfairsilk has garnered multiple accolades for their commitment to quality and a standard of excellence in the world of luxury bedding.
Mayfairsilk has won half a dozen on awards with the most recent being 'The Silk Bedding Company of the Year 2023' hosted by UK Enterprise Awards. Their success is a testament to the sumptuousness of their silk duvet covers, which are not only aesthetically pleasing but also possess a level of craftsmanship that is simply sublime.
And if you are concerned about the prospect of the colour of your new silk duvet cover clashing with your existing decor, fear not! Mayfairsilk offers a delightful array of colours, ensuring that your bedding will be in perfect harmony with your boudoir's palette. From classic white, to regal Midnight Blue to the enticing Blush Pink, there is a hue for every taste and sensibility.
A recent customer review by Emily W states:
"Absolutely love my silk duvet cover from Mayfairsilk which I purchased after having read their reviews online and the many perks of sleeping in silk. I must admit that is by far the most luxurious bedding I've owned and now I'm looking to buy another silk duvet cover to gift to my daughter."
In conclusion, my dear reader, the allure of silk duvet covers is undeniable. With their myriad benefits and the exceptional quality offered by Mayfairsilk, these sheets are an investment in your sleep, your health, and your overall well-being.
Treat yourself to the opulence and comfort that only Mayfairsilk's award-winning silk duvet covers can provide, and experience a slumber that is truly fit for a queen.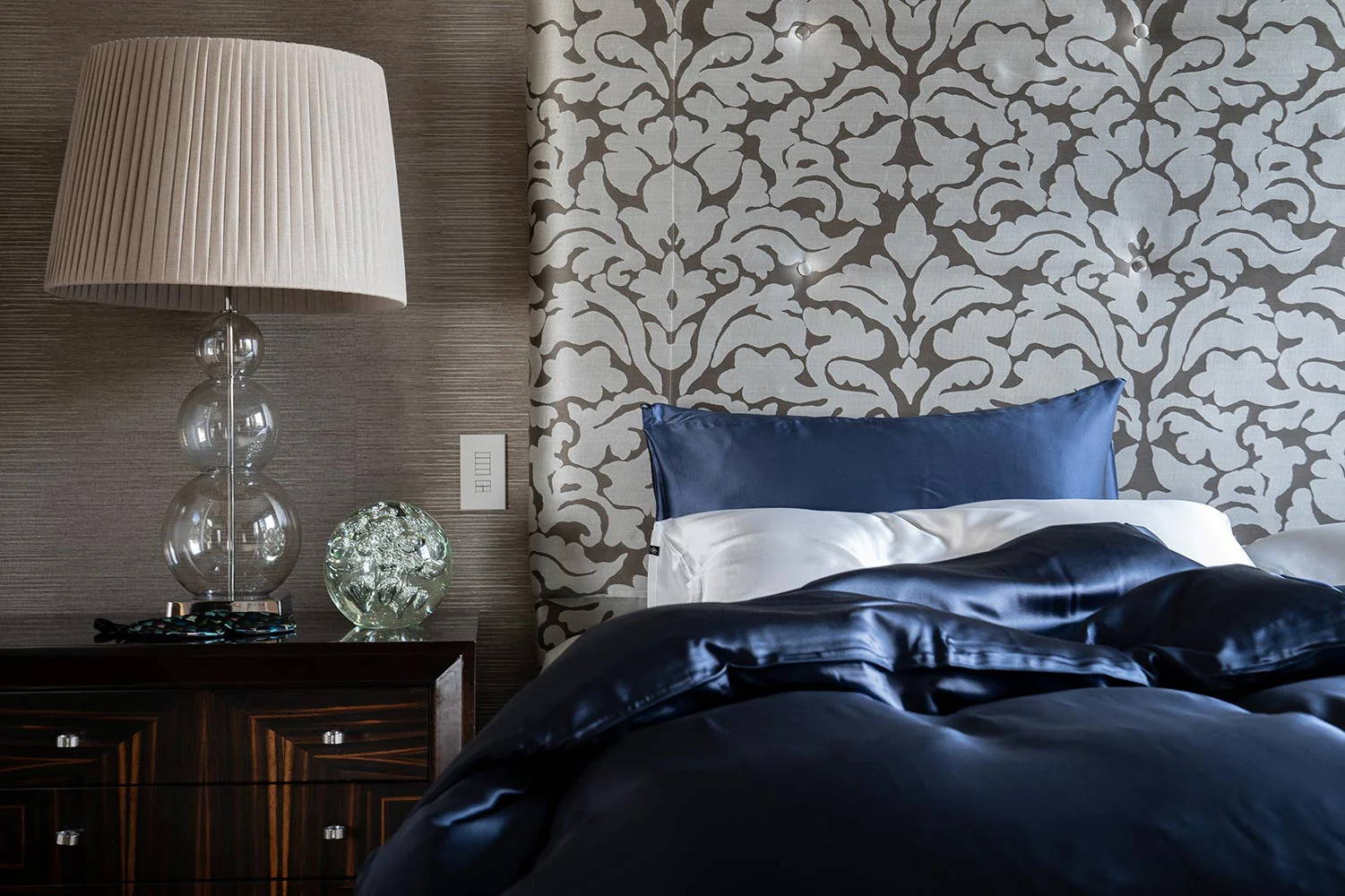 If you are a fan to of beautifully styled bedrooms play around with neutral or pastel colours. Before you buy a silk product it is important to research information and check out the average rating of the particular product via customer reviews.
Sleeping on silk are linked with reducing the formation of wrinkles, keeping allergies caused by dust mites at bay and is soothing for sensitive skin. Having a silk duvet will keep you cocooned in luxury from head to toe.
Silk is also thermoregulating so it keeps you cool in the summer and tad bit warmer in the winter.
Recent review:
"I was looking for a light green duvet cover for my bedroom and came across this beautiful teal breeze colour which is soft and soothing to the eyes. I have invested in the full set including the pillowcases and it has made a massive difference to my sleep and I look forward to sleeping on it every night."
- Michelle O.
Frequently asked questions about Silk Duvet Covers:
1) Can you wash a mulberry silk duvet cover in the washing machine?
The answer is yes.
Gone are the days where silk needed to be hand washed only. However, when using a washing machine, proper care instructions need to be followed such as a) wash on a delicates or silk setting which will ensure that the temperature of the water is less than 30ºC
b) use a delicates laundry bag for extra protection
c) you must use a detergent designed for silk/wool, and
d) do not wring / tumble dry, dry in the shade out of direct sunlight.
You can see the full care tips on washing silk here.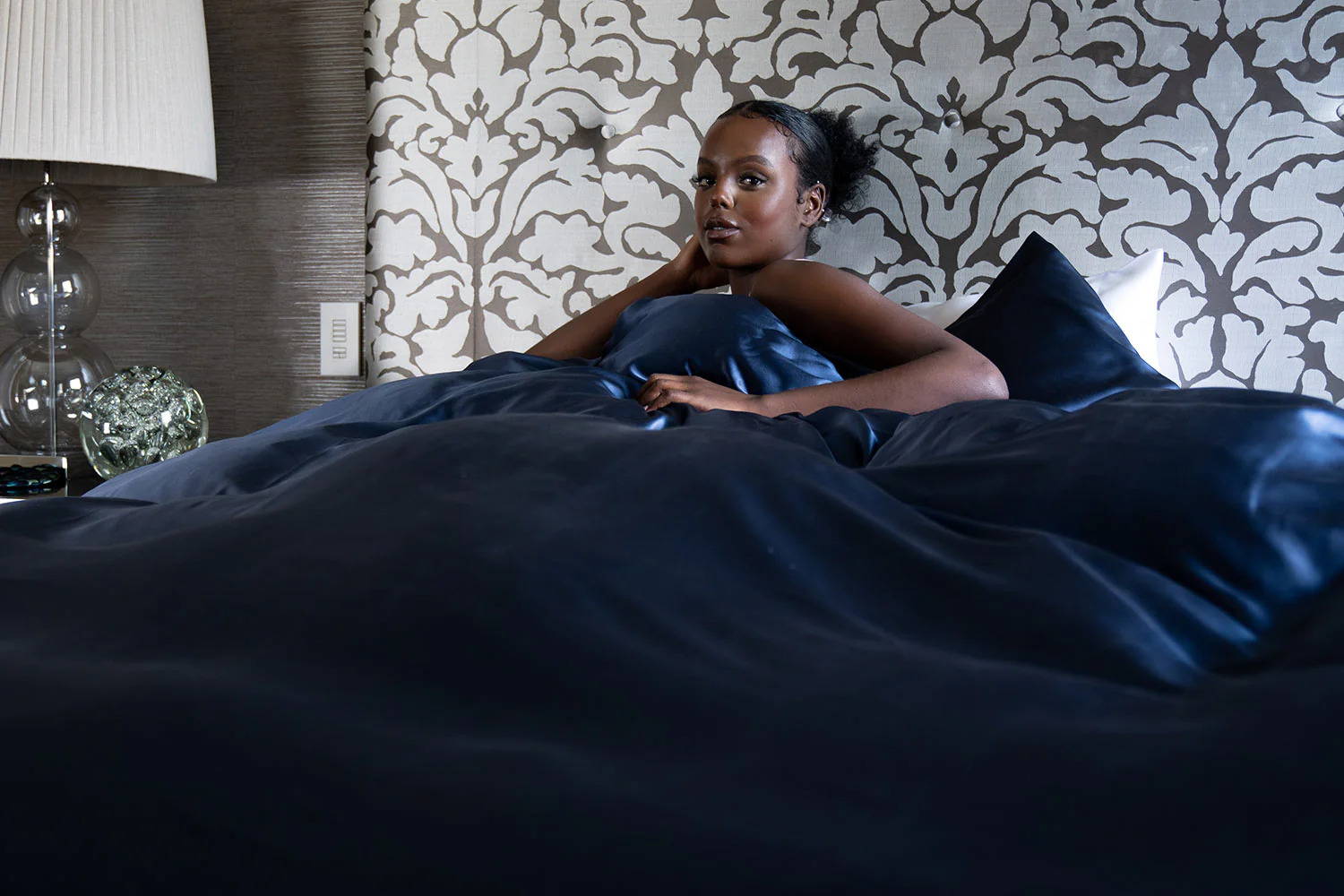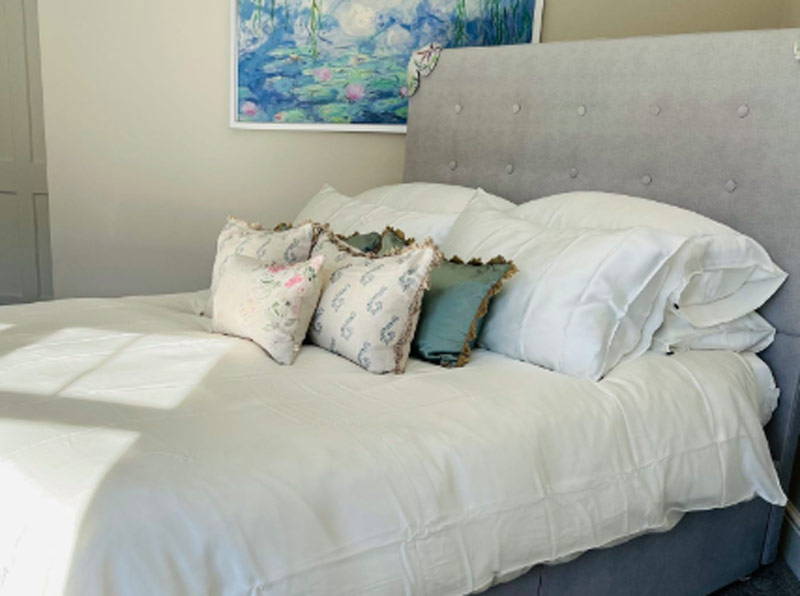 2) How much bigger should a duvet cover be than the duvet?
There are a variety of sizes of duvets on the market, so when it comes to choosing your silk duvet covers, it is recommended to the duvet cover be +/- 2 inches. Within that range, the duvet cover will fit well. All Mayfairsilk duvet covers, also come with very useful duvet ties in each corner, so if your duvet supports this, you simply tie the corners to your duvet on the inside and your duvet will stay in place all night long.
3) Do silk duvet covers shrink after a wash?
Some silk duvet covers may shrink after the first wash.
However, at Mayfairsilk the duvet covers are pre-shrunk before sale so you won't face any issues of shrinkage later.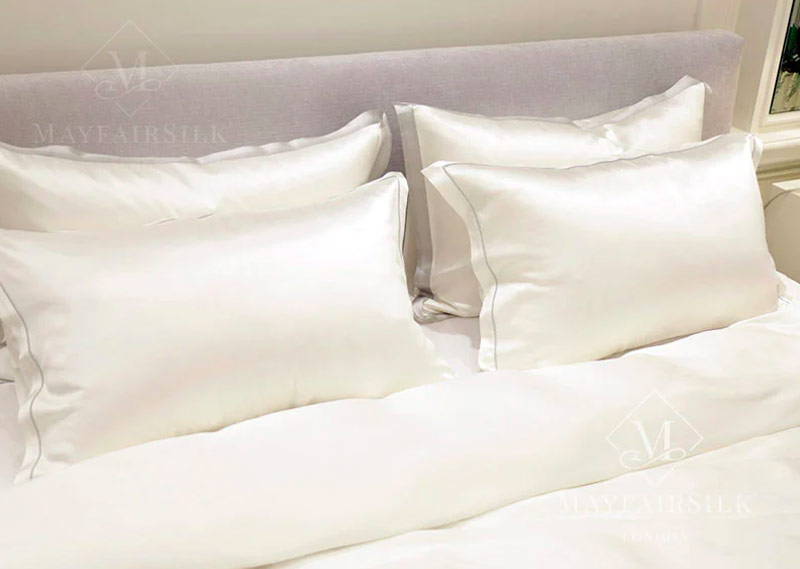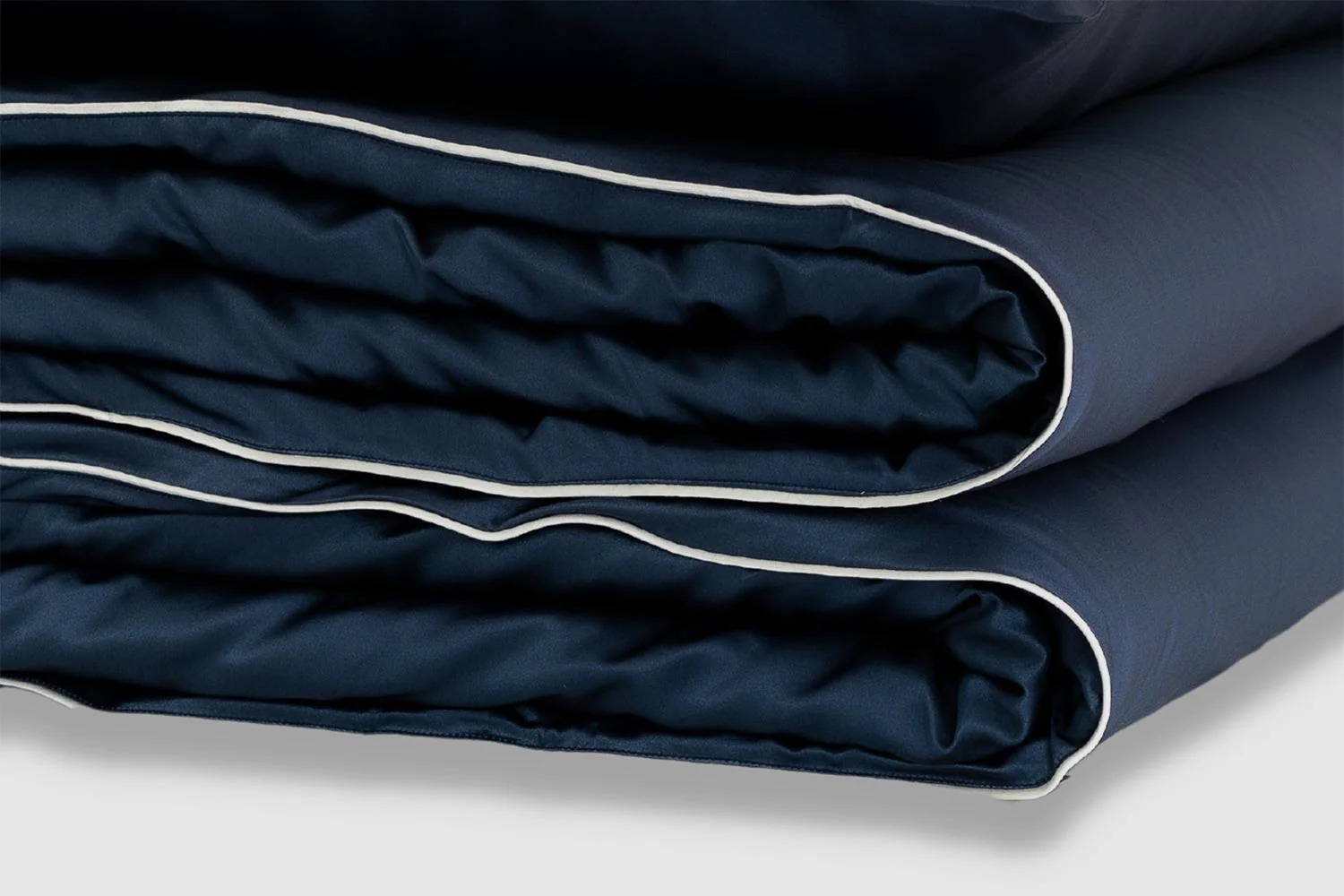 4) What are the softest duvet covers made of?
Not much comes close to silk for softness when it comes to bedding. However there are more than a dozen types of silk and within those there are 13 grades of silk. The softest duvet covers are made from pure Mulberry silk of 6A Grade, which is the grade that all Mayfairsilk products are crafted from.
5) What sizes are silk duvet covers available in?
The size for silk duvets covers it goes from single, double, king, super king (Euro Grand King) and Emperor (Euro Super king).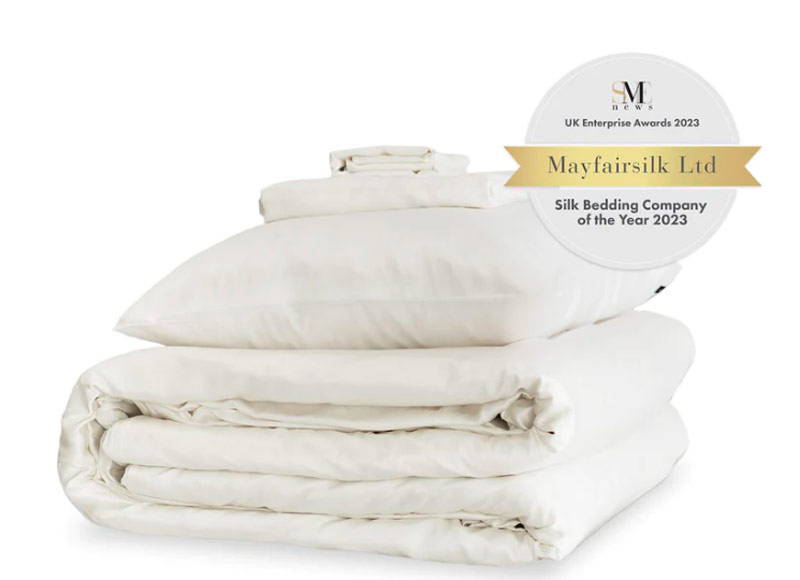 6) Are silk bed sheets and silk duvet cover good for your skin?
Sleeping on silk bed linen has numerous advantages which include advantages for skin, hair and even mood. When it comes to skin sleeping in silk ensures that the derma is not getting stripped of its natural moisture and so stays more hydrated . Dehydration of skin results into acceleration of sleep creases and wrinkles.
7) Are silk duvet covers worth it?
Not much comes close to sleeping on luxurious bedding made from pure silk. We spend approximately 8 hours each day in bed and so worth is relative and depends on how much you value everyday comforts.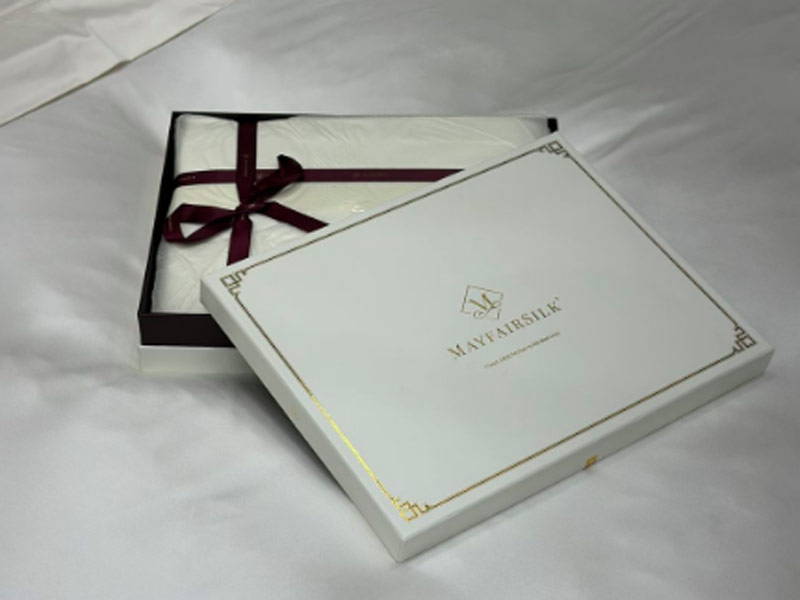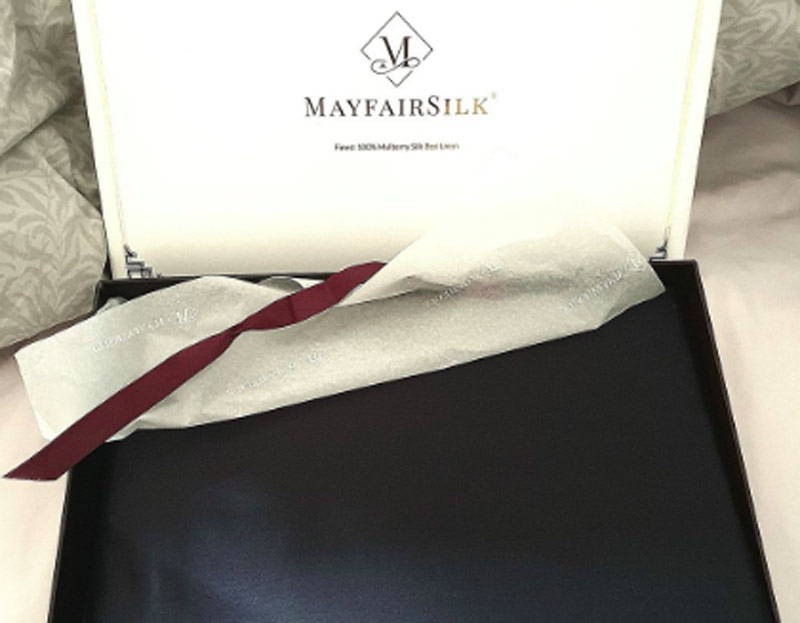 8) How many awards has Mayfairsilk won for their silk bedding ?
Mayfairsilk has been consistently winning awards in the last three years and have been awarded over half a dozen awards. The most recent being the 'Silk Bedding Company of the year 2023' by UK Enterprise Awards.
Besides this, some of the other awards they have won include 'Innovation and Excellence Awards - 2022 Winner', and 'Best Bedding Brand of the Year- 2022 Winner' by Prestige Awards of London and South East England.
Besides silk duvet covers what other silk products does Mayfairsilk sell?
Mayfairsilk present wide selection of Mulberry silk bedding ranging from bed sheets (flat and fitted sheets), pillowcases in Oxford and Housewife styles, sleep eye masks, silk scrunchies, etc. The varied selection of items in plain and printed design and an array of colours from pink, blue, green, silver, gold, charcoal and more.
The sizes for pillowcases are standard (US Queen) and super king (US King) and the pillowcases are in 25 momme silk. As for silk duvet covers and silk bed sheets it goes from single, double, king, super king (Euro Grand King) and Emperor (Euro Super King).
Feel free to checkout the selection of silk duvets here https://mayfairsilk.com/products/mayfairsilk-bed-linen-duvet-cover-22-momme-ivory-finest-100-pure-mulberry-silk
To view what is in stock for the silk bed linen range, visit mayfairsilk.com for more details