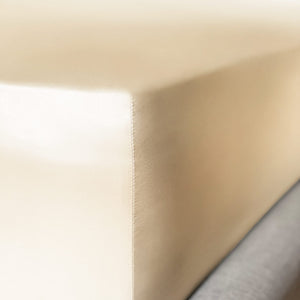 This Pure Silk Deep Fitted Bed Sheet in a resplendent Champagne hue is fashioned from our distinguished 22 momme matte silk, offering an exceptionally smooth feel against your skin.
Utilising cutting-edge technology, combined with a specific weave and finishing process, we've created a luxuriously refined fabric that maintains its splendour even through machine washing (using detergent designed for silk).
Contemplate this - over the next year, you're likely to spend some 2700 hours in bed, or more astoundingly, 27,000 hours in the forthcoming decade. Essentially, one-third of your life will be spent nestled in your sheets.
During this time, we depend on quality sleep for our nervous system to decompress, our memories to consolidate, and our cells to rejuvenate and restore themselves.
Sound sleep is synonymous with top performance and enhanced health.
There is arguably no fabric more opulent, comfortable, or beneficial to repose in than MayfairSilk. Our silk is simply heavenly against the skin, adeptly regulates temperature for optimal comfort, keeps skin and hair hydrated, and is hypoallergenic. It also dries swiftly and remains fresher than cotton for longer periods, thus requiring less frequent washing.
Experience for yourself why silk has been lauded as the "Queen of textiles" since the 27th century BC.
Invest in your sleep today; future you will be grateful. The delight of sleeping on silk will swiftly become a non-negotiable part of your lifestyle.
Machine washable (delicate detergent <30ºC or 86ºF temp)
22 momme Grade 6A Mulberry Silk - will last 30% longer than lower momme fabrics
Superbly soft with a refined matt finish
Maintains skin hydration
Assists in smoother & shinier hair
Silk has thermal-regulating properties (cool in summer, warm in winter)
Hand-finished
Sustainably produced
Naturally hypoallergenic and antibacterial
Designed in London
Certified Standard 100 by Oeko-Tex
Free from all harmful chemicals and dyes
Crafted in 22 Momme from only the finest grade 6A long-fibre Mulberry Silk with a specially commissioned weave and finishing. This imbues our fabric with its trademark qualities of an incredibly smooth hand-feel, thickness, durability, rich lustre and a refined 'matt' finish.
Certified Standard 100 by Oeko-Tex®:
One of the world's best-known certificates for textiles tested for harmful substances. It stands for customer confidence and high product safety. You can be certain that every component of this product has been tested for harmful substances and is free from all toxic dyes and chemicals.
Design palette:
Our design philosophy is a calming, balanced colour palette playing with contrasts and vibrant highlights to create an aura of beauty and happiness after a long day.
Pairing suggestions:
Pair this sheet with a matching or complementing pillowcase, flat sheet or duvet cover for a sleep that's like floating in clouds.
Fitted Sheet:
UK Single: 90 x 190 x 35cm (55 x 75 x 13.7in) - Deep
UK Double: 140 x 190 x 35cm (55 x 75 x 13.7in) - Deep
UK King: 150 x 200 x 35cm (59 x 79 x 13.7in) - Deep
UK Super King | Euro Grand King: 180 x 200 x 35cm (71 x 79 x 13.7in) - Deep
UK Emperor | Euro Super King: 200 x 200 x 35cm (79 x 79 x 13.7in) - Deep
Bespoke order: Extra deep sheets or custom sizes can be made by special request. Please email us and include the quantity, choice of our fitted sheet fabric colours, along with your mattress dimensions (length, width and depth - expressed in cm or inches). We recommend your sheet to be 5-8cm deeper than your mattress depth for the perfect fit. We will reply with a quotation.
Reference - UK Standard Bed sizes:
UK Single: 90 x 190cm (3ft x 6ft 3" | 35.43in x 74.8in)
UK Double: 135 x 190cm (4ft 6" x 6ft 3" | 53.1in x 74.8in)
UK King: 150 x 200cm (5ft x 6ft 6" | 59in x 78.7in)
UK Super King | Euro Grand King: 180 x 200cm (6ft x 6ft 6" | 70.8in x 78.7in)
UK Emperor | Euro Super King: 200 x 200cm (6ft 6" x 6ft 6" | 78.7in x 78.7in)
Packaging: 31 x 34 x 5cm
Your Mayfairsilk® bed sheets will provide many years of enjoyment when you follow these simple care instructions. Due to its natural properties, you will find it requires less frequent washing than cotton bed linen:
Machine-wash in tepid water (< 30ºC / 86ºF) on delicate cycle.
Or, hand-wash in tepid water (< 30ºC / 86ºF).
Use 'delicate' pH neutral liquid detergent without enzymes, designed for silk.
Do not use bleach, whiteners or fabric softeners.
Do not wring or tumble dry.
Place bed sheet between two cotton towels and press gently. Most of the water will transfer into the towels. Remove, reshape and hang/line dry in the shade.
Use handheld steamer to relax creases if required (using silk attachment), or
Iron on low heat inside out whilst still slightly damp to relax creases.
You can dry clean if required (no trichloroethylene).
Delivery:
Orders before 2pm weekdays are dispatched same day using tracked, contactless delivery.
Free delivery for UK Mainland orders of £50 and above.
£2.95 for UK Mainland orders under £49.99.
All orders are sent by DPD Tracked & Signed.
*Order before 2pm (Mon-Thu) for dispatch same day on next day delivery.
*Orders before 2pm on Friday will be collected for Monday delivery, unless you select the Saturday delivery option.
Saturday delivery option: available to the UK Mainland via DPD Tracked & Signed when you order before 2pm Friday. Free for orders over £150, £6.95 for orders over £50, otherwise £9.95.
*Orders over the weekend will be dispatched Monday for Tuesday delivery.
Postcodes outside UK Mainland may have additional delivery times, see details here
International orders are sent via DHL Express on a DDP basis (inclusive of all import duty/taxes). This service gives you a clear and simple shopping experience so you are aware of all charges before you purchase. We will calculate, display and collect these for you at checkout. We will then manage the all the tax payments and paperwork on import so you have a simple, smooth and effortless shopping experience with delivery to your front door in a matter of days.
See delivery page for full details on international shipping.
Returns (Risk free shopping):
We believe in the quality of our products, and stand by them. If you are not completely satisfied with your Mayfairsilk® purchase, you have not used or washed the product and you return it to us in its original, unopened packaging within 45 days of the tracked delivery date (the day you receive the product), we will refund the product purchase price in full.
For full details on returns please visit our guarantee & returns page here.